Displaying items by tag: garbage removal melbourne fl
Friday, 05 January 2018 18:03
Express Roll Off Dumpsters of Melbourne, FL Awarded Best in Trash Removal 2017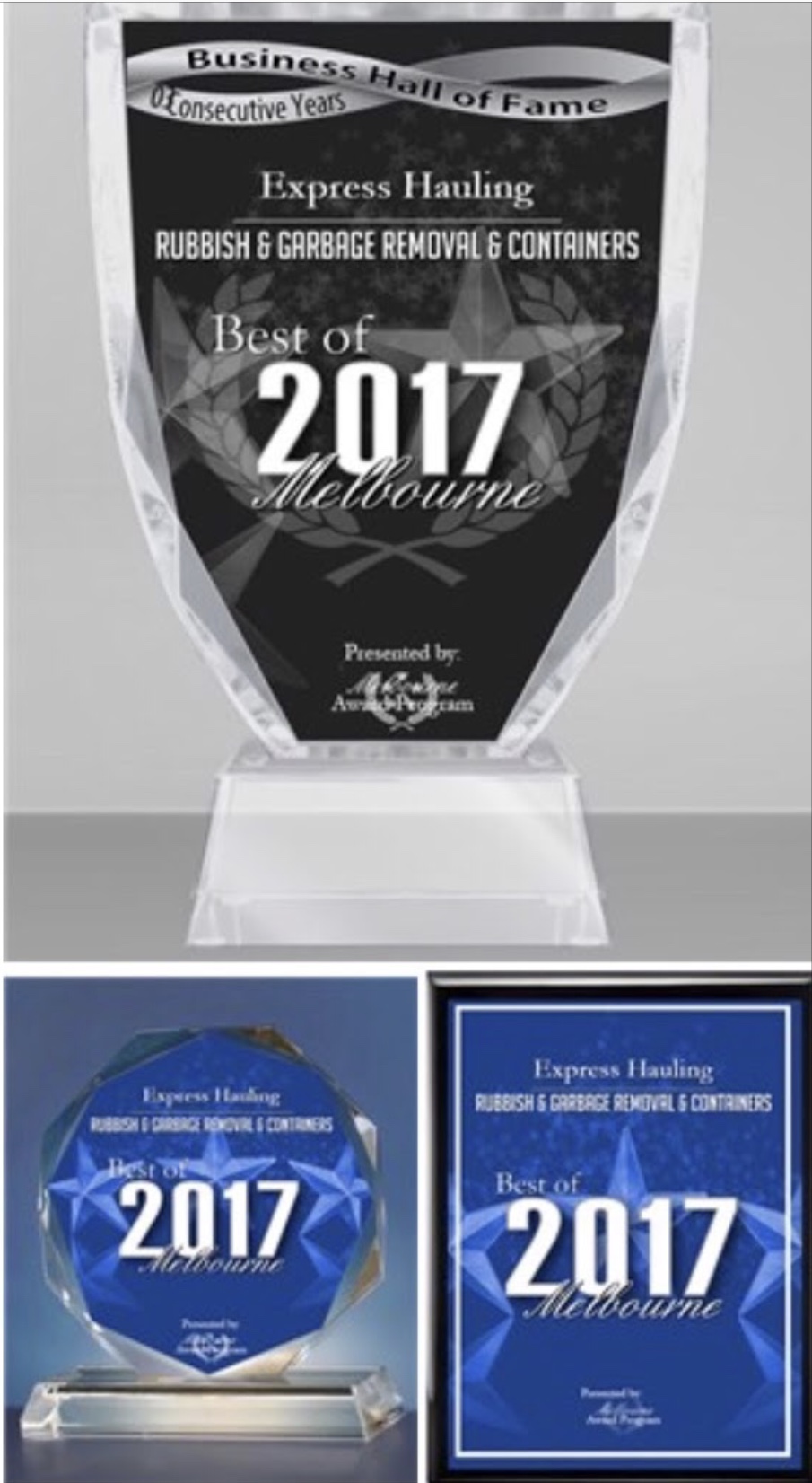 Express Roll Off has proudly received the award for best in Rubbish & Garbage Removal & Containers in Melbourne, Florida. Express has consecutively won this award for the past three years in a row. You may be thinking running a roll off dumpster business can't be that stressful, so what's the big deal!?
We at Express, enjoy what what do, and take tremendous pride in servicing our customers (both homeowners and contractors) the very best we can. However, the dumpster service business can be challenging. It's not at all what you're imagining - sitting back and taking sales calls from renters, scheduling, dropping off and picking up roll offs. Some of the factors that make the roll off dumpster business trying are: weather factors, equipment maintanance, scheduling challenges, and the hauling capacities of different trucks.
The hurricanes - As we all are aware of, Brevard County Florida has experienced two category 3 hurricanes consecutively in both 2016 and 2017. Both Matthew and Irma posed different challenges. Express had many dumpster pick ups to do before both hurricanes, since people were panicking about the possibility of loose debris flying around their properties. Express raced to pick up and store as many roll offs as we could before each of the hurricanes. After the storms were over, we raced to deliver as quickly as we possibly could. Our dumpsters were in such demand after Irma especially, that we actually had other carriers from out of state wanting to purchase our containers for three times more than they cost. We of course did not sell them, since we have a business to run, but the demand of cleanup in various parts of the nation (not including the Caribbean islands) was that high.
Dispatching -They all want it now - like pizza delivery on Super Bowl Sunday… This brings us to the next challenge, which is dispatching. Dispatching can be tricky with a county like Brevard County, Florida that is seventy-two miles long (or 1557 square miles). Our dispatch center does the absolute best job they can when they give customers a realistic time frame for dumpster deliveries. We don't believe in "over-promising"; but in exceeding our customers's expectations. We've grown to realize that although we aim to please all the people all of the time, we simply can't. Express Roll Off is fair with our rental process. We service our deliveries in the order they were placed, and if it's geographically possible we squeeze people into our schedule. This can be especially difficult, because we do not want to turn away potential business, yet we can't harm our reputation with the service we provide either.
Different roll off trucks have different capacities. The majority of our fleet of trucks can handle the most popular sized dumpsters like the 15 yard bins, and the 10 cubic yard cans (this depends on the weight they are hauling - which relates to the axle capacity of the truck and roll off trailer). We cannot send our dual axle heavy hauler truck for instance into a tight, residential neighborhood for instance or we would be knocking out some mailboxes. Similarly, we cannot send one of our single axle trucks to do heavy hauls - like concrete tear outs for a paver driveway. So the trucks we send out have to correspond to the load they're hauling, and the physical location the property is located at.