Thursday, 03 August 2017 05:23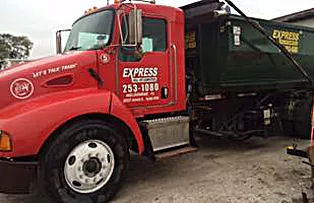 Thank you for renting a dumpster from Express Roll Off! Below are some rental tips to help your rental run smoothly and suggestions on avoiding extra charges. Rental Term: 14 Days - additional days thereafter are $10/day; however, if you need your dumpster picked up and dumped before the 14 day rental term is up, billing cycle starts over again (if you have more to dump - this is called a dumpster switch out or dump return). We highly recommend calling or texting us 1-2 days before you need your dumpster picked up. What You Can Dump: cardboard boxes, furniture, junk, flooring, drywall, sinks, counter tops, bathtubs, glass, plastics (not containing liquids), dirt, books, clothing, metal (not appliances), fencing, concrete, pvc, roofing shingles, wood, rocks, faucets, lighting fixtures (no lightbulbs), clothing, and more.
What You Cannot Dump: Hazardous materials, batteries, wet paint cans, liquids (chemicals, cleaners, etc.), tires, aerosol cans, pesticides, herbicides, flammable liquids, mercury based material, appliances, propane tanks, solvents, computers, tvs, asbestos, gasoline, oil, flammable liquids, oil filters, biohazards materials.