Displaying items by tag: 15 yard roll off dumpster
Thursday, 26 October 2017 23:21
Size Matters When Renting Dumpsters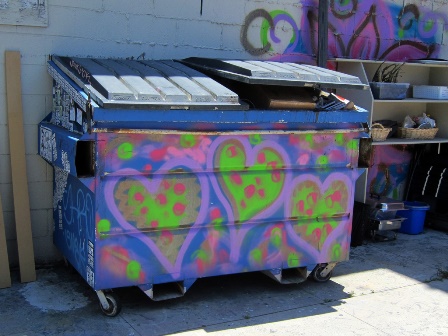 Size truly matters when it comes to renting a roll off dumpster. Many times we think of our wallet first when it comes to paying for something temporary like dumpster rental. Afterall, it's just a container that you're going to use for trash disposal. But smaller, doesn't always end up being cheaper.
The dumpster to the left isn't a roll off dumpster, it is however roughly 4-6 yards. The smallest size roll off we rent at Express is 10 yards. Does double this size look like it will hold all of the debris you have? If it doesn't you're better off renting our most popular size - our 15 yard dumpster. It just might save you over $150! We'll get to that in a minute....
Sometimes smaller is cheaper when it comes to size. This applies when you're ordering food in a restaurant for instance. The 6oz steak is cheaper than the 8 oz cut. A 10 yard dumpster is our least expensive dumpster, provided you can fit all of your debris inside of it without going over the fill line. And if you can manage to do so, that's great!
But usually we have a tendency to underestimate the amount of garbage we really have. This is where the savings comes in...