Thursday, 17 August 2017 20:37
Waste Management Dumpster Rental Prices Cost More Than Express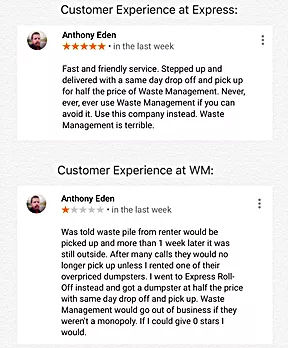 Waste Management Roll Off Dumpster Prices

Waste Management (WM) offers the following dumpster sizes in most markets : 20, 30, and 40 yard rolling dumpsters. The 20 yard dumpster is most frequently rented and is the smallest size they offer for temporary roll-off dumpsters. The average cost to rent a dumpster from Waste Management nationwide is $654.

Waste Management's Dumpster Prices vs. Local Dumpster Carriers

We compared 20 yard dumpster rental prices through WM to prices from smaller, locally owned and operated haulers in Brevard County Florida. We found that renting dumpsters from local roll off providers is more than $200 cheaper.