Displaying items by tag: express roll off concrete dumpsters
Thursday, 14 December 2017 18:13
Concrete Dumpster Rental Brevard County Fl is Less at Express Roll-Off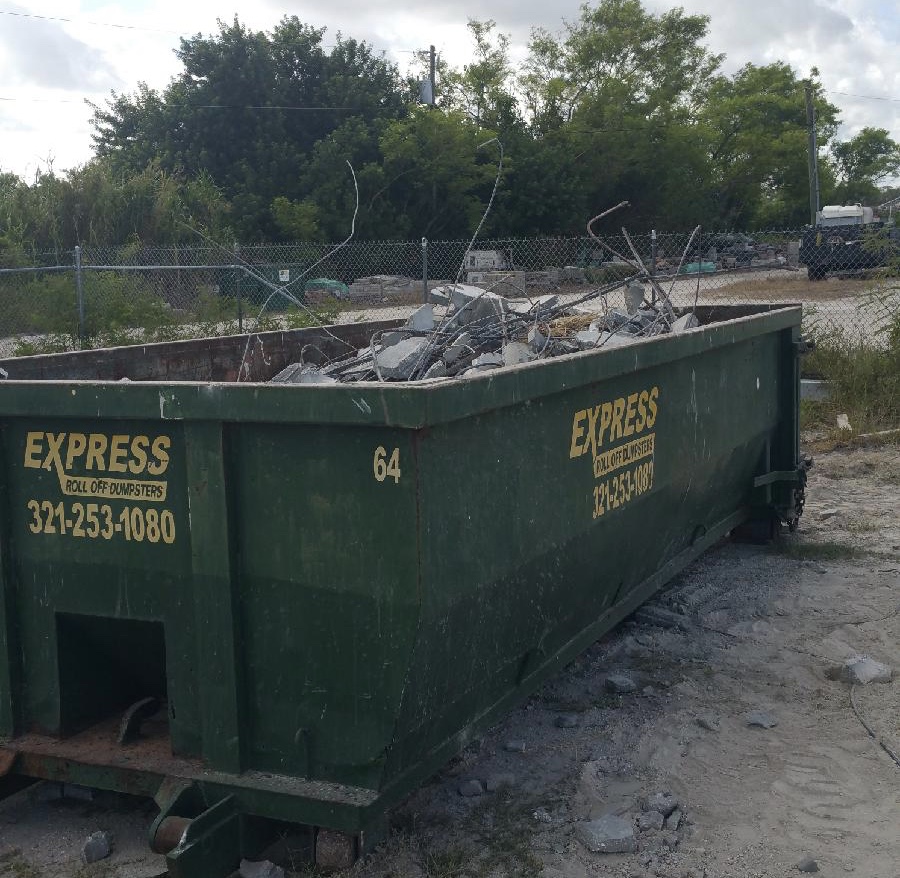 Concrete roll off dumpster rental is the second most popular type of rental Express Roll Off offers to homeowners and contractors in Brevard county Florida. Concrete dumpsters are used for masonry and asphalt projects, such as: removing driveways, patios, pool decks, walkways, side walks, pools, foundation and footings. If you're in need of a dumpster for concrete disposal in Palm Bay, Melbourne, Merritt Island, Rockledge, Cocoa, or any city located within Brevard county, give Express Roll Off a call

321-253-1080

.
Renting a concrete roll off dumpster is similar to renting other bins, but there are several factors that affect a concrete dumpster's cost. These factors include: the size of the container, the weight of the concrete, where you're located, and the disposal fees in your area all play important roles, when receiving a quote.
Before making an educated decision on your roll off rental, here are a few things to consider when renting a dumpster for concrete...
Concrete takes up less space, but is extremely dense (heavy).
A 15 yard dumpster (filled 3/4 full) is typically big enough for disposing of debris from a concrete slab, driveway, or patio, but it's always best to double check with our dispatch experts at Express Roll Off. Concrete is a low volume debris, but it weighs a lot (which is why the 15 yard dumpster should only be filled 3/4 full).
When calling our dispatch team at Express, be sure to give us as many details as you possibly can about the job you're doing.

321-253-1080

This will best assist them in providing you or your company with an accurate estimate, and will help ensure you choose the best dumpster based on the amount of concrete you need removed.