Guide To What Can and Can't Be Put In Roll Off Dumpster
What Can I Throw away in a Roll Off Dumpster? Express Roll Off's Guide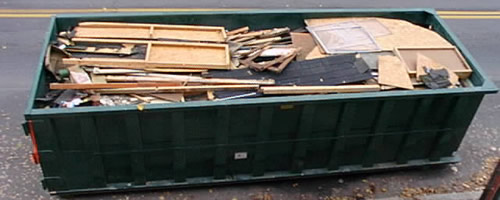 What cannot be disposed of in a dumpster?
Just as there are rules pertaining to what you can throw away in your trash can, there are also guidelines to adhere to when it comes to your rented dumpster. These laws are implemented for environmental reasons; there are also state and local regulations related to disposing of waste.
We recommend always discussing the type(s) of debris you're disposing of with our dispatch staff at Express
321-253-1080
. They will help ensure that you understand what is allowed to be discarded and what is not. A general rule of thumb pertaining to materials which cannot be disposed of is : anything liquid-based cannot be placed into our roll off containers. This includes: chemicals, household cleaners, HAZMAT materials, anything flammable, wet paint, oil, gasoline, propane, tires, mercury based materials or appliances with liquids associated with them (AC units, refrigerators, microwaves, televisions, etc.), oil filters, batteries, etc. These liquids can seep into the ground at the local landfill and contaminate our local water supply.
***Also be careful when disposing of vegetative material - local Brevard landfill rule- mixing vegetative debris with construction and/or junk debris is allowed but can get costly (there are disposal fees involved). ***
Click here
to read more on this and save money on dump fees.
What can you dispose of in a dumpster?
Most non-hazardous waste, junk or debris in general is permitted. A general list of allowable items include: boxes, mattresses, dried paint cans, toys, rags, clothing, tables, documents, fire damaged items, water damaged materials, dirt, concrete, some rebar, metal, pvc, cabinets, sinks, screens, wood, trash, furniture, roofing shingles, siding, construction & demolition debris (also known as C&D debris), and all types of flooring.
Household junk Includes:
Nearly every type of furniture like couches are allowed in dumpsters.
FURNITURE DISPOSAL
Couches, tables, mattresses, box springs, chairs, dressers, book cases, barstools, entertainment centers, hutches, china cabinets, and other furniture can be disposed and are accepted in our roll off dumpsters.
Certain appliances can be discarded in a trash dumpster. Make sure these appliances do not contain freon or hazardous materials first.
APPLIANCE DISPOSAL
Refrigerators, freezers, Air conditioning units, washers and dryers and the vast majority of general household appliances can be thrown in a dumpster, but all hazardous fluids and components, such as freon, must be removed first.
Freon-containing appliances can be removed by hiring a professional, such as an appliance repair specialist or HVAC certified pro. The refrigerant must be completely removed of before disposing of it. Otherwise, we cannot accept these materials in your disposal load.
Helpful Hint:
There are appliance disposal options that could save you money. For instance, FPL offers rebates and incentives on more energy efficient appliances when you upgrade your old appliances. Some local or government programs also offer discounts towards your purchase of updated ENERGY STAR® qualified models. Other methods of disposing of your unwanted HVAC units, refrigerators, washers and dryers, etc. include: free cycling, selling an old working unit on Craigslist, contacting a local used appliance store to see if they will take it, or contacting waste management's ECO division at
321-608-5080
to arrange for pickup of white goods (includes: refrigerators, stoves, washing machines, water heaters, and other types of appliances).
Electronic waste encompasses items like: TVs and computers are best disposed of through Waste Management's ECO department above, since many of these items have mercury, or liquids associated with them.
ELECTRONICS DISPOSAL
Television sets, computers, printers, cell phones, VCRs, stereos, and other electronics are best disposed of by arranging for pick up through Waste Management's ECO Department at
321-608-5080
. They more than likely will be required to recycle them as electronic waste or e-waste.
Yard waste can be disposed of in our dumpsters - by itself!
YARD WASTE DISPOSAL
Trees, branches, brush, grass, sod, mulch, and other vegetative waste are allowed in Express Roll Off's dumpsters. However, you should not mix vegetative debris with construction, junk, or other debris, since our local landfills recycle this material by mulching it.
Rental Tip: Express offers a "clean-load" option for dumpsters at a flat rate price for most residential addresses (new construction does not apply). "Clean-loading" means only loading one specific type of material into the roll off dumpster. For example, clean concrete (without rebar), yard waste, etc. constitute "clean loads". These materials are recycled and diverted away from the landfill, so you save the environment and some money on disposal fees. A mixed load will cost you $41/ton (this is a load where yard waste is mixed in with C&D or junk). This is a local landfill charge that we must pass along to customers. Express only charges the actual disposal fee on the weigh ticket, since free drop off and pick up are included in our rental services.
Non-organic trash such as carpeting and paper products can go in dumpsters.
OTHER ITEMS DISPOSAL
All toys, window treatments, carpet, old documents, cardboard, and similar non-organic trash items may all be disposed of in a dumpster, as well.
CONSTRUCTION DEBRIS DISPOSAL
Brick, stone, drywall, concrete, wood, and asphalt, and other construction materials can be put in roll off dumpsters. Please note, commercial renovation and new construction (even on a residential property are subject to tonnage disposal fees of $23.66/ton).
DIRT, BRICK, STONE, CONCRETE, ASPHALT & OTHER HEAVY MATERIALS
Heavy debris, such as: concrete, asphalt, dirt, and brick, can be thrown in most dumpsters, however due to its weight, Express Roll-Off only allows 15 Yard dumpsters (filled 3/4 high) for these heavy materials.
ROOFING SHINGLE DISPOSAL
Asphalt roofing shingles are another category of heavy debris that can go in a dumpster. However, Express only allows 15 Yard dumpsters for disposing of roofing materials (3/4 to fill line due to the weight).
RENOVATION DEBRIS DISPOSAL
Drywall, wood, siding, tile, insulation, and other construction and demolition debris can be disposed of in roll offs.
With heavy debris, our roll off trucks must work harder. We only allow 15 yard dumpsters for concrete disposal, roofing shingles, bricks, dirt, asphalt, etc. And the dumpster may only be filled 3/4 of the way full.
At Express, we can help you find the correct sized dumpster for your project, at the best price possible.
In order to ensure you receive the best possible price, learn more about Express's dumpster sizes and pricing. If you're a first-time roll-off renter, our
Renting Dumpsters 101 article
is a great place to start. Depending on the size of your project and the type of debris you have, you may only need a 10 yard 15 cubic yard roll off. But if your project is larger, a 20 yard or 30 yard dumpster is likely your best choice.
Express Roll Off Dumpsters is the most convenient place to find the right dumpster to rent in Brevard County, Florda. Don't just take our word for it, browse the other roll off companies in Melbourne, Palm Bay, Viera, Merritt Island, and all of Brevard, read their reviews, and see what other customers have to say about their services.
Summary: What can't you put in a dumpster?
Generally speaking, you cannot put any type of hazardous materials or liquid-based items in your rented-dumpster. This includes items such as: wet paint, oil (all other liquids), asbestos, sealed tanks/drums, electronics (e-waste), tires, and certain types of appliances. You'll find more information regarding this below.
Paint, tires, hazardous waste, and batteries, and liquid-based appliances are not allowed in roll off dumpsters.
DISPOSAL OF PAINT, STAINS, AND LACQUERS
You cannot dispose of: paint, paint thinners, lacquers, or wood stains in a dumpster, with the exception of latex-based paints. If you have leftover latex paint that can't be reused or recycled, allow the paint to completely dry, so that it is solidified. This can be expedited by pouring the paint into a shallow pan of kitty litter and/or shredded paper. Once the paint has hardened and dried, toss it into the dumpster.
Other ideas for disposing of empty, dried paint cans :
1. Recycled them in with other metals in your curbside bin.
2. Find a local recycling center to drop off your leftover paint.
TIRE DISPOSAL
Because the majority of landfills in the United States don't accept tires, you cannot dispose of tires in a dumpster. However, there are various ways to properly dispose of scrap tires. One option is - taking your old tires to a local auto parts store or tire dealership.
Another option includes finding a local recycler who will then convert old tires into asphalt or rubber mulch. Waste Management also allows four tires per household to be disposed of curbside with your residential garbage collection.
HAZARDOUS WASTE DISPOSAL
Asbestos, gasoline, pesticides, motor oil and other automotive fluids, propane tanks, household cleaners, ink and resins, contaminated soil or absorbents, and medical waste should never be placed in a roll off dumpster. At our local landfills, their is a separate area for solid waste drop off and disposal.
BATTERY DISPOSAL
Car batteries and dry-cell batteries may never be put in a dumpster because they can leak harmful chemicals into the environment.
Instead, recycle car batteries by returning them to nearly any retail store that sells car batteries. Many retailer have drop off bins designated for old dry-cell batteries, such as lithium, AA, and AAA batteries.
Eco-friendly tips for disposing of what isn't allowed in roll offs:
Donate working TVs and appliances to Habitat for Humanity or another local charity organization. Donate or recycle electronic waste, such as: cell phones, tablets, computers, printers, etc. Search for an e-waste recycling centers nearby.
Take old motor oil to a local oil change facilities for proper recycling.
The majority of auto part stores and repair shops will recycle old car batteries, and you may even get a credit for returning it to where you bought it.
Bring used tires to a tire changing garage for recycling, or advertise them on Craigslist for free pick up. Remember, "your trash may be someone else's treasure."
Some of the top frequently asked questions (FAQs)we are asked by our renters can be found below:
FAQs
Q. Can you throw out a television in a dumpster?
A. In most cases, no. You are best taking TVs to the curb they get picked up rather quickly.
Q. Can you throw furniture in a dumpster?
A. Yes, furniture of all kinds is acceptable. This includes: chairs, couches, beds, and tables. However, gaming chairs or chairs with electronics built-in (like massage chairs or hospital beds may not be disposed of). Check to make sure that you're not disposing of furniture that contains electrical components. Your best bet concerning furniture disposal is: if the furniture is still usable, you should donate it to local charitable organizations. In most cases you can arrange for free pick up and in addition you'll get a tax write off.
Q. Can you throw tires in a roll off?
A. No, it's illegal to throw whole tires in a dumpster for environmental reasons. You are best off recycling them with a local tire store or calling your local residential trash service and arranging for curbside pick up.
Q. Can you put mattresses in a dumpster?
A. Yes, unless it has electronic components or is a waterbed mattress.
Q. Can I mix landscape waste with construction debris or with other trash and junk?
A. Yes, however, this can get costly. Brevard's local landfills consider loads such as this 'mixed loads' and charge $41/ton. You are better off separating any palm fronds, leaves, mulch, branches, sticks, sod, etc. into a wheelbarrow and placing the vegetative debris curbside (your local trash company will pick it up free of charge). If you're doing a large-scale landscape renovation, or a hurricane-cleanup and all of are disposing of is vegetative matter - feel free to use a roll off to dispose of your 'clean vegetative load'.
Now that you're aware of what can go into your roll off rental and what cannot, give Express Roll Off Dumpsters a call today
321-253-1080
Our helpful staff will be sure to guide you with renting the appropriate sized dumpster for your project at the best possible rate.