Rent A Roll Off Dumpster in Palm Bay Florida Today
Dumpster rental palm bay- Dumpster Rental Near Me - Express Roll Off Dumpsters has cheap dumpster rental at low-cost rent a dumpster near me prices. If you are in search of a company with a variety of dumpster sizes our dumpster rental cost cannot be beat, whether you need a dumpster rental in Malabar FL, Grant, Valkaria, or Sebastian (in Brevard County, Florida). Express can help you rent a garbage bin at the absolute best price.
Cheap Dumpster Rental Near Me
Do you need a dumpster rental in Palm Bay at your workplace or home?
Looking for small dumpster rental or residential dumpster rental in Palm Bay? Or the surrounding cities in Brevard County - The Space Coast in Florida? Express Roll Off is located in Melbourne - Palm Bay, Florida and offers both residential dumpster sizes and construction containers for rent. There's a building boom happening in Palm Bay right now. Currently Palm Bay is the most populated city in the county and is the second largest city in central Florida. It's no surprise you have been searching for "roll off dumpster rental near me."
Why leave roll off dumpster rental and hauling to our waste management company? Express is a local dumpster rental company that owns its own dumpsters, we don't hire other hauling companies to service our customers. Nationwide waste brokers contact out a local dumpster service like us, and charge the end customer hundreds of dollars more. For example Fancy Dumpster (fictitious waste broker) sells you a dumpster for $400, chances are, they're contracting the service to a local roll off business like us, and paying our rate of $200 for example. See how they just inflated the actual cost of our service and made money off of you, the unknowing customer? At Express Roll Off, we take pride in serving you. We work hard to provide you honest, upfront, low cost roll off dumpster prices. Our cheap dumpster rental prices start at just $15.36/day (based on a two week rental term). Express Roll Off Dumpsters five-star ratings are shown on business reviews sites for dumpster rentals like Google Maps, Facebook, Yelp, and YP.
Request your free online quote today by phone

321-253-1080

or fill out our web form.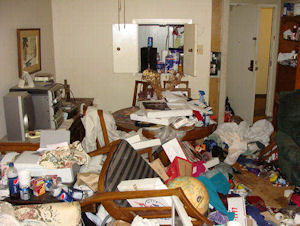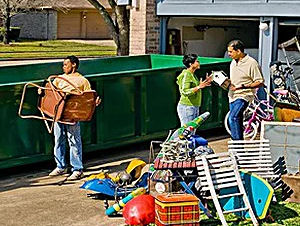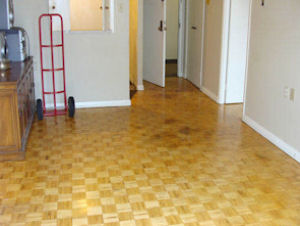 Save $40 - $75 On New Short Term Dumpster Rentals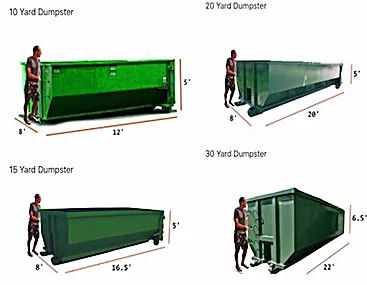 How to Choose the Right Roll Off Service
Our
roll off dumpster service
business has received several industry awards for our top-notch customer service. Check our residential
and commercial container rental prices by calling or filling out our web form to receive a
dumpster rental quote
. We even offer volume discounts on the cost of construction container rentals. We
completely
disclose our
dumpster prices
in advance without additional add on surprises later. We have four Roll Off sizes to choose from 10 Cubic Yard dumpsters, 15 Yard roll offs, 20 cubic yard dumpsters, and 30 yard dumpster rentals. We also have a
cubic yards calculator
to assist you in deciding which roll off container size will best fit your DIY project, clean out, or job site. Express Roll Off shows the actual dumpster dimensions of each size, and we give you a relative idea on how much debris each roll off container can accommodate. We also provide sample projects suitable for each size (example: kitchen re-model).
Other local dumpster service companies may charge slightly less, but they may disappoint you when they don't show up to drop your roll off on time, leave you trapped looking at your renovation debris, or charge you extra at the end of the job, with the credit card you regret entrusting them with. Express Roll Off provides you with a dumpster rental agreement stating our policies and procedures, cheap roll off container rental prices, new flexible term shorter rental durations are designed to save you $40 - $75 off of our former 2 week rental, superb customer service, free dumpster delivery and pickup, convenient hours of operation, and a fleet of licensed and insured safety & background checked CDL drivers. Express Roll Off is a family owned and operated dumpster rental service business. If you're searching for dumpsters near me, look no further, we have the Roll Off container for you. We provide roll off dumpster rentals to cities near you: Palm Bay, Melbourne, Titusville, Merritt Island, Cocoa, Rockledge, the beaches and more. We serve all cities in Brevard County Florida. We have dumpsters with walk in option, meaning our roll off doors open for easy loading. You won't have to risk injuring yourself loading heavy debris over the container sides.
Construction Contractors We have cheap 20 & 30 yard dumpster prices - click to your left on the blue link to contact us for volume pricing. Let us know how many pulls you anticipate and how frequent and often. We aim to make you and your crew look like rock stars with the turn around time and pricing your contracting firm will receive.
Not all dumpster rental quotes are created equal:
Don't be fooled by low base price rentals - they usually come with surprise add on fees and leave you with buyer's remorse later. If the dumpster rental price seems too good to be true, it probably is. How can I be sure I'm getting a true all-inclusive price? Be weary of tonnage included terms. For example you receive a dumpster rental quote for $175 for a 15 yard dumpster for 10 days, but tonnage is $75/ton extra. Note that the average roll off weighs roughly 2 tons on the scales at the landfill. This means the great deal you thought you got on renting a roff off, in reality was too costly. $175. + $150. = $325 - save $100 now and give Express a call. Tipping fees, or add-on charges for tonnage may be legitimate in large cities like Miami, but here in Brevard the local landfill does not charge roll off carriers like us to dispose of debris, unless it is a mixed load, new construction, or commercial. In other words, household junk, or construction materials at a residential address are free to dispose of, unless you're building a new home in Brevard. Don't be fooled by hauling-related add-ons, and know the local municipality fees up front.
Local Contractors are familiar with both local landfills- Sarno transfer station and the dreaded Cocoa dump. However, contractors from out of the area may not be familiar with Brevard County's disposal charges. There are 2 main charges that may pertain to your particular industry : commercial renovation & government - rate is : $23.66/ton, the same rate applies for new construction (custom home builders & GC's - this may apply to you). Commercial businesses are charged $29.50 for solid waste billable charges - which corresponds to your business address. For example you own an e-commerce business that rents a yard can and disposes of trash - you will be billed at this rate (since you're located at a commercial address).
Two other disposal categories to be conscious of are:
Pressure treated wood / and or food trash - wood decking, 2x4s, fencing, and/or any type of food trash must be taken to the Cocoa landfill - which is filled with nails, seagulls, and may be farther for us to travel to to dispose of the aforementioned materials. For this reason, we add on a fair, flat-rate fee for this service.
Mixed Load Fees - the most expensive charge at both land fills - $41/ton - staff assisted load (billing appears this way on the weight ticket). This charge can easily be avoided if vegetative debris (palm fronds, mulch, branches, leaves, plants, stumps, etc.) of any kind is not mixed in a roll off with construction / demolition materials, or household junk. Both of the county land fills recycle landscaping materials and offer free mulch, so if the solid waste staff has to manually separate these materials, you will be charged - and this can add up. Your best bet is to take vegetative debris to the curb for collection. If you plan on renting a roll off and just filling it with yard waste (and nothing else) - this is fine, but do not put pressure treated wood, screening, etc. in the load. All wood isn't created equal at the dump.
15 Yard Roll Off Dumpsters
Fit 4 1/2 pick up trucks full of debris - Rent one today from Express Roll Off Dumpsters & Pay $40 - $75 less on our New Shorter term 7-10 day Rentals.
Call 321-253-1080
or fill out our web form for a free dumpster rental quote today. Rent from a reputable licensed & insured local company that services all of Brevard County Florida.
Awarded Best in Trash Removal & Container Rental 3 Years in a Row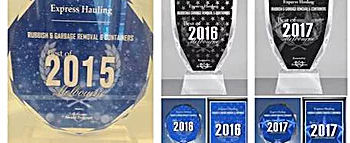 Palm Bay Dumpster Rental Near Me - Zip Codes: 32907, 32909, 32905, 32908, Bayside Lakes, Lockmar Estates, SE, NW, Valkaria, Grant, Malabar
Keywords:
Roll Off Dumpster Prices, Dumpster rental Palm Bay, FL, Express Roll Off Dumpsters, dumpsters near me cost, dumpster rental malabar fl, dumpsters sebastian, dumpster rental brevard
Licensed & Insured Local Company
If you can't decide which size you'll need, give our award winning staff a call. We're glad to help make your rental stress-free.