Reasons To Rent a Roll Off
All the reasons why you should rent a roll off
Concrete Removal Assisted Load Dumpster Rental - Brick Pavers
Express Roll Off Dumpsters 'Drops the Base'
Not that kind of base (as in music). Base for hard scapes or brick pavers.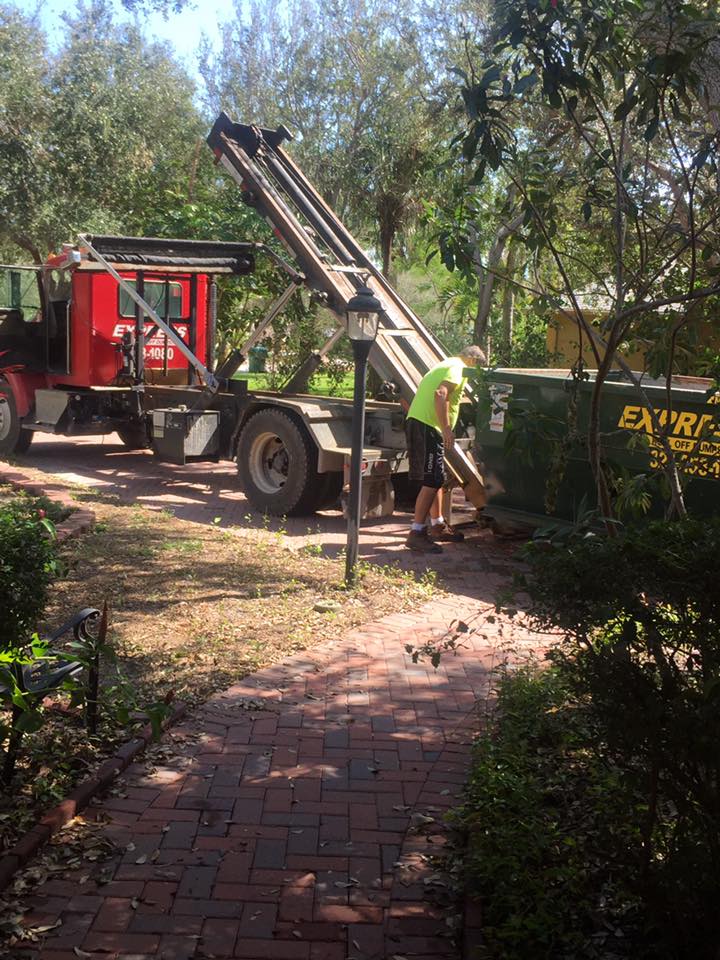 Base Material is a flexible, compacted aggregate of granular material (also know as fines) which is spread under the hard scape material (masonry concrete or clay bricks). This material is measured in tons, and hauled to the location where hard scapes are to be installed. Generally the concrete removed from your driveway or patio is crushed into this material. This material acts like an adhesive to keep brick pavers in place.
The local companies in Brevard County Florida that do the crushing also offer delivery of the base material to your customer's location. However, we at Express Roll Off dumpsters can assist with this hauling service (as well as delivering the concrete sections removed to the crusher). Thereby, eliminating a few steps in the concrete removal and installation process of brick pavers.
How Can Express Roll Off Dumpsters Help Your Paver Company?
Our heavy hauler roll off truck simply awaits the concrete excavation process (assisting the load) and transports the concrete sections to the crusher. We use your account with the local crushers and deliver up to 15 tons of fines per haul to your customer's property. This eliminates coordination of travel and dispatch on your land scape or hard scape crew, and keeps your crew focused on the job they're working on. If your company is running multiple crews, this makes it easier to increase overall productivity (even if your operation owns their own dump truck or trailer). Plus Express's Roll Offs can fit more than two times the amount of concrete than a small dump truck. In essence, one 15 Yard Dumpster can fit 350 - 440 square feet of concrete. The average sized driveway here in Brevard County, FL is 600 sq ft. Express Roll Off Dumpsters can save your paver company 1-2 trips hauling away your customer's concrete tear out, and also stop at Conner's or DCI and have the concrete crushed into fines (saving your company 2-3 trips and some logistical coordination). This can cost $65 for the delivery of fines and 3-4 hours in company time $105, plus gas $45, possible breakdowns, time delays, insurance, wear and tear, etc., which could end up equalling $215 (for just delivery of base material, gas, and time). Express offers hauling and assisted load services for less, and your crew can stay focused on the job. Fill out our web form for a free dumpster quote and see how Express Roll Off can help your hardscape company stay more productive.
Post Death Roll Off Dumpster Rental - Palm Bay, Florida
An unfortunate need for a dumpster rental is a death in the family. Have you had a recent death in the family? I did.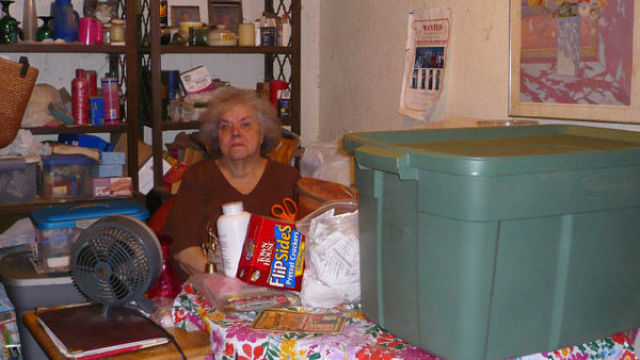 My father died suddenly. His death was not at all expected. Don't get me wrong, he wasn't the picture of perfect health. He was only sixty-nine years of age (young in my eyes), when his untimely death forever changed my family's life. The timing of my father's death was less than opportune, especially since he passed in late December and the holidays were underway.
Both of my parents were in the midst of downsizing and moving in with my grandmother to care for her in Grant. My father was newly retired and had big plans of relaxing, vacationing, and enjoying his golden years. Unfortunately my dad came down with pneumonia and was hospitalized. As his condition worsened, he went from being on a respirator to a ventilator (life support). After experiencing the emotional roller coaster and its ups and downs of hope, and then bleakness, my family faced the tough choice of letting go. I was faced with dealing with my own grief and helping my mother plan for his funeral, write an obituary, and get rid of some of his possessions she could no longer bear to look at.
© 2023 by Express Roll Off Dumpsters.
Express Roll Off Dumpsters
2653 Aurora Road
Melbourne, FL 32935 USA
Phone Number: 321-253-1080
Text Friendly: 321-591-9559
Hours Of Operation
Monday - Friday 7:00AM - 7:30PM
Saturday 9:00AM - 5:00PM
Servicing All Of Brevard County FL