Renting a Dumpster Makes Moving Easier
Renting a Roll Off Dumpster in Brevard FL Makes Moving Easier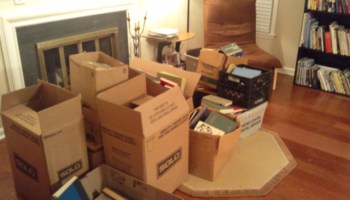 According to the United States Census Bureau, roughly 1 in 9 Americans change residences each year. Which means, approximately thirty-six million people move from one home to another in the U.S. every single year. Whether you are moving out for the first time, downsizing, or moving into a bigger place, the entire relocation process can be trying. Fortunately for you, Express Roll Off Dumpsters is here for you, to help simplify the moving process and demonstrate how a dumpster rental could be your solution in achieving a stress-free transition.
First and foremost: The most effective way to s
ell your home (and get the most money for it) is by making it look downright gorgeous. That means clean, clutter-free, and a blank canvas for potential buyers to envision their new lives at your current property.
In order to achieve the curb-appeal potential buy
er's are seeking, there's no better time to downsize than right before a move. If it's difficult to part ways with your beloved knickknacks and memorabilia you've accumulated throughout the years, think about it in terms of what you'll ultimately gain:
◦ With less items to move, you'll save money on moving expenses
◦ You'll earn money and tax credits by selling and donating the articles you get rid of
◦ Your house will appear larger and will yield a higher asking price
All of the above reasons (combined with less clutter in your new residence-to-be) makes for a less stressful moving experience and a fresh start in your new home.
The Art of an Easy Moving-Out Experience:
It is highly recommended by the vast majority of e
xperts to do a solid clean out and decluttering of your home before even putting your home for sale on the real estate market. Procrastinating and saving the dirty work for the later can be daunting, so the earlier you begin the cleaning process, the better.
However, even if you fail to begin prepping early, you should at the very least have a game plan. Start from the top of your house, and work your way through each room (in its entireity) until you're finished.
Step 1: Reduce your stuff.
As mentioned earlier, clutter can cost you dearly, no matter how you look at it. If you do not remove it from your house while it's on the market, it may cost you a sale. If you opt to put it in storage, you could wind up paying hundreds in monthly storage locker fees.
What is your best bet? Just pitch it. Sell your unwanted items, donate them to charity, or dispose of them in a dumpster. Whatever you end up doing, don't leave these items to take over your home, like we see on television shows like 'Hoarders'. "Our memories come from are us, not from our possessions." There are a many methods to cope with parting ways with sentimental items. Sometimes taking pictures of certain items—or writing a journal entry or blog about them—is enough to salvage the purpose of memo
rabilia, without infringing on your space.
Step 2: Maximize your curb appeal.
An unattended exterior will give potential buyers the impression that you've neglected your home's interior of your home as well.
In a today's market, your home should be in ultimate condition from top to bottom. This includes: landscaping, paint, windows, roofing, gutters, soffit, lighting, etc.
If your home has any broken windows or a compromised roof, these flaws could discourage potential buyers from presenting an offer, so be sure to have these items fixed properly. You should also clean out your gutters, wash windows and screens, and pressure-wash your home and driveway.
Heres's A Helpful Hint: An easy, inexpensive method to give your home's exterior a deep cleaning without renting equipment or taking out the ladder and sponge, is to use a "house wash" hose attachment—available at any local, big box home improvement store.
A fresh coat of paint goes a long way as well, es
pecially when it comes to your front door. Freshening up your existing door's entry-way by painting it a contrasting color to compliment your home will make it pop, catching the eyes of potential buyers, and intriguing them to go in for a better look.
Another cheap method to brighten up the "face" of your home is to replace old, faded house numbers and/or mailboxes with new, modern digits. (You want buyers to be able to view them from the curb.) And while you're at it, update your exterior lighting and landscaping fixtures for a modern, fresh look.
Be sure that your yard's landscaping is immac
u
late. Mow the lawn, get rid of weeds, trim shrubs and bushes, plant flowers, etc.
Step 3: Spruce up the interior.
Similarly to the exterior of your home, ensure all necessary interior repairs have been completed. Even if they seem like minor items to you, a potential buyer could be adding them to their mental check list of post-purchase expenses they need to address. So replace those old faucets, change out the dated cabinet handles, and make the little changes, since they will end up making a make big difference.
After all repairs are completed, it's time to refresh the place and give it a thorough cleaning.
Step 4: Dispose of it all now.
Maybe this won't always be the last and final step, but an ongoing step. Regardless of which step it is, renting a dumpster will be your secret weapon in ridding of all the clutter and junk your house has been accumulating for years within days.
Let's be realistic, if you're like most of us, you probably have an absurd amount of junk taking up space in your house, from old knick knacks and greeting cards to drawers full of random parts you don't remember what they belong to of gadgets and everything in between.
All of those pointless items you honestly have not used in a year that you've been holding on to "just in case" need to be disposed of. A roll off dumpster at Express is calling their name.
The debris that you still haven't gotten around to discarding after this year's hurricane around your property is screaming, "throw me away." Broken patio furniture, sections of snapped fencing, pieces of wood used to board up your home, ruined towels and rags, water damaged pieces of drywall, rusty soffit, and more can all make nice contributions to the interior of the roll off. In addition there are unwanted items in your Florida garage (remember that place where your vehicle used to reside). Your garage is probably a graveyard for: dried up paint cans, boxes of personal documents, a ping pong table, tv stands and more. All these items, and more, can be disposed of in a dumpster.
We, at Express Roll Off will even place the dumpste
r where it's easiest for you to access-just be sure to tell our dispatch team where that is!
So find the right dumpster size to fit your disposal needs, and have a roll off delivered to your home at a time that's most convenient for you. Express offers a rental term of two whole weeks, so you'll be able to go at your own pace during the rigorous process of preparing f
or a move.