Brick Paver Company Roll Off Dumpster Rental in Brevard, FL
Concrete Removal Assisted Load Dumpster Rental - Brick Pavers
Express Roll Off Dumpsters 'Drops the Base'
Not that kind of base (as in music). Base for hard scapes or brick pavers.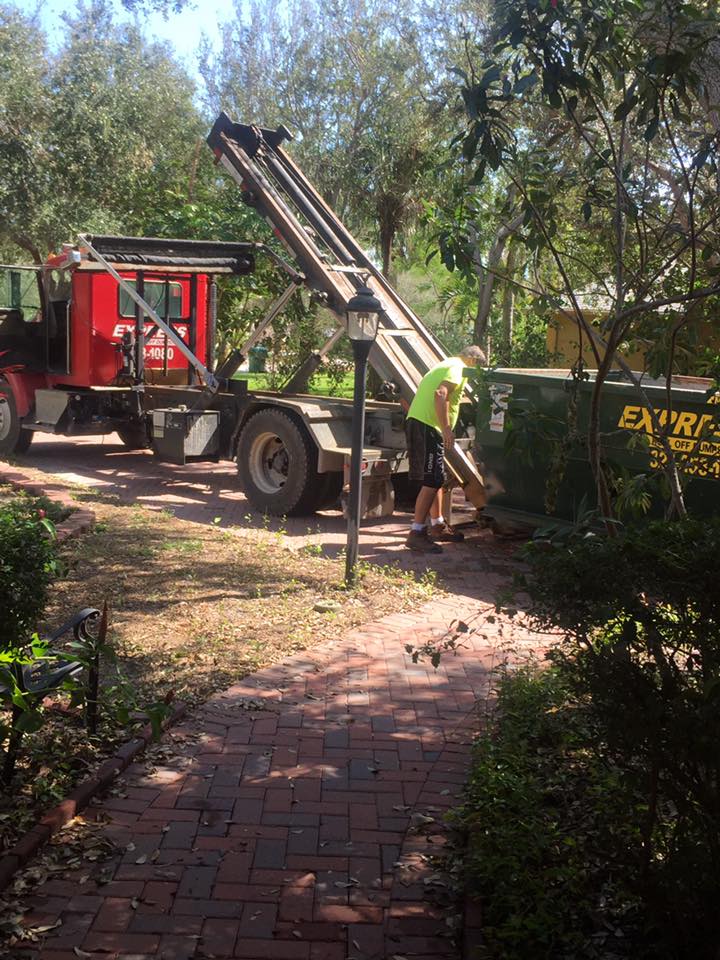 Base Material is a flexible, compacted aggregate of granular material (also know as fines) which is spread under the hard scape material (masonry concrete or clay bricks). This material is measured in tons, and hauled to the location where hard scapes are to be installed. Generally the concrete removed from your driveway or patio is crushed into this material. This material acts like an adhesive to keep brick pavers in place.
The local companies in Brevard County Florida that do the crushing also offer delivery of the base material to your customer's location. However, we at Express Roll Off dumpsters can assist with this hauling service (as well as delivering the concrete sections removed to the crusher). Thereby, eliminating a few steps in the concrete removal and installation process of brick pavers.
How Can Express Roll Off Dumpsters Help Your Paver Company?
Our heavy hauler roll off truck simply awaits the concrete excavation process (assisting the load) and transports the concrete sections to the crusher. We use your account with the local crushers and deliver up to 15 tons of fines per haul to your customer's property. This eliminates coordination of travel and dispatch on your land scape or hard scape crew, and keeps your crew focused on the job they're working on. If your company is running multiple crews, this makes it easier to increase overall productivity (even if your operation owns their own dump truck or trailer). Plus Express's Roll Offs can fit more than two times the amount of concrete than a small dump truck. In essence, one 15 Yard Dumpster can fit 350 - 440 square feet of concrete. The average sized driveway here in Brevard County, FL is 600 sq ft. Express Roll Off Dumpsters can save your paver company 1-2 trips hauling away your customer's concrete tear out, and also stop at Conner's or DCI and have the concrete crushed into fines (saving your company 2-3 trips and some logistical coordination). This can cost $65 for the delivery of fines and 3-4 hours in company time $105, plus gas $45, possible breakdowns, time delays, insurance, wear and tear, etc., which could end up equalling $215 (for just delivery of base material, gas, and time). Express offers hauling and assisted load services for less, and your crew can stay focused on the job. Fill out our web form for a free dumpster quote and see how Express Roll Off can help your hardscape company stay more productive.
Express Roll Off Dumpsters has helped many large brick paver companies in Brevard County, Fl with concrete tear outs and hauling base materials for these company's driveway jobs. Express has assisted with paver jobs on both residential and commercial-sized scales. If your company prefers to have the aggregate base material delivered to your yard, we can also do this. Many companies in Brevard County, Florida offer hard scape services in our area. If you are just breaking into this lucrative sector, we can help reduce your upfront equipment costs, and assist your company with such services. We can save you time and money by hauling the concrete to the crusher and delivering the base material (extra fee)directly to the job site you're working on. Many land scape companies have recently expanded their services to offer hard scape installation. A brick paver driveway, walk way, pool deck, retaining wall, etc. not only adds beauty to a property, but these attractive upgrades also add monetary value to the overall real estate market price .
Utilizing the Roll Off Dumpster services provided by Express can not only save your company time and money, but will maximize your productivity on the job. The cost of using Express Roll Off's hauling services ranges from 2.5% - 8% of the total sale price the customer pays. Express uses 15 yard dumpsters 3/4 of the way full for concrete hauling and delivery of base material. Express is licensed and insured and implements cautious safety measures. For instance, Express will not place a dumpster in the road overnight, since this could cause an accident. Express works quickly and efficiently to haul and deliver your materials when your company needs them. If you own a brick paver company located in Brevard County, Florida, call Express for pricing to suit your needs

321-253-1080

.
If your specific business is disposing of waste on a consistent basis, requiring a dump return (where the dumpster you're using is full and is emptied and returned back to you) every week to two weeks, or even more frequently, you may be a candidate to contract a dumpster rental. If your company needs a roll off at your shop, warehouse, showroom, factory, or commercial location and it requires a dump return or switch out at least every two weeks, you may find it advantageous to opt for a yard dumpster. Express Roll Off allows for a volume discount rate for this and arranges billing services with your company via email or snail mail.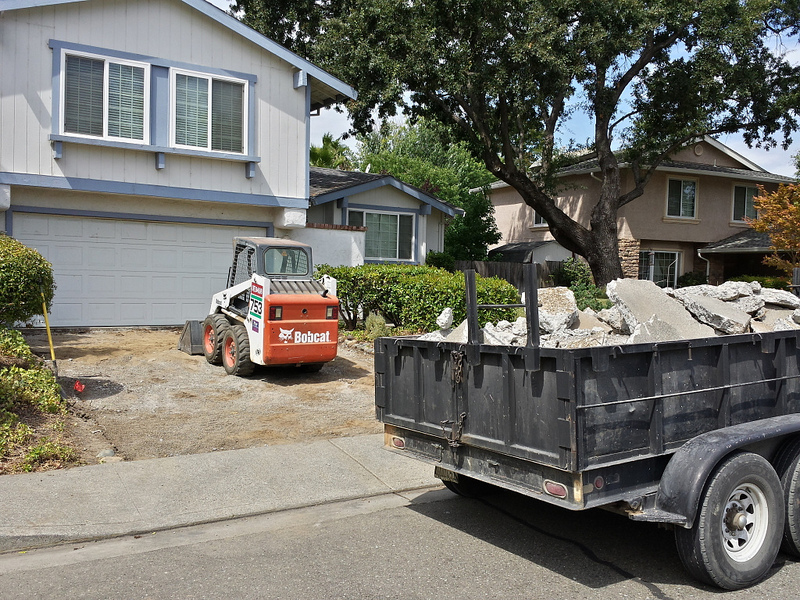 I have my own dump truck or dump trailer, would your services work for me?
If your business runs multiple crews, or you undertake larger jobs that require concrete removal, you may wish to use our yard can service and/or our hauling services. Time is money, when you offer contracting work. And completing the job, or multiple jobs enables you to start new ones. With the price of fuel continuing to climb and lengthy lines at the dump/crusher will enable your hard scape crew to benefit by saving time, money, and tires. Call Express Roll Off when your yard can needs a dump return or switch out and we'll keep your paver work flow underway.

321-253-1080.