30 Yard Roll Off Dumpster Dimensions & Rental Guide
30 Cubic Yard Roll Off Dumpster Dimensions & Use
How large is a 30 yard dumpster? Express Roll Off Dumpsters of Brevard, County Florida will go over the dimensions of our 30 yard rolloffs, as well as the most common uses for a 30 yard dumpster and its weight capacity.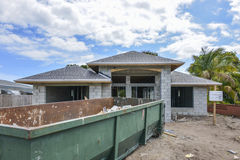 Express Roll Offs 30 yard dumpster container length is 22 feet in length x 8 feet wide x 6 feet high. This size roll off can hold up to 15 pick-up truck loads worth of debris, waste or contents.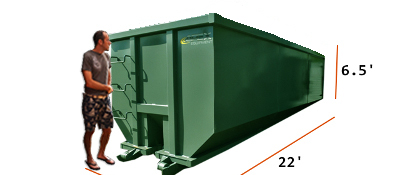 30 yard dumpster dimensions are pictured to the right
Hauling Capacity of 30 yard Dumpster Containers
Most 30 yard roll off dumpster rental comes with a stated weight capacity. This is the total weight of the waste the container can accommodate. Express Roll Off allows a generous 8 ton limit on clean loads. Our residential customers, or renovators pursuing contracting-work at a residential address are not subject to additional dump fees. Commercial renovation, government renovation, and new construction are subject to $23.66/ton at commercial job sites and residential construction.
For more information on clean Loading and how to avoid mixed load fees of $41./ton. - click here.
The average weight allowed by most dumpster companies when renting 30 yard dumpsters is 4 to 5 tons, or 8,000 to 10,000 pounds. The average dumpster container load of debris weighs about 340 pounds per cubic yard.
Lets compare some disposal figures…
30 cubic yards of loosely loaded general debris weighs 9,000 pounds.
15 yards of tightly packed, wet, or general waste weighs approximately 9,000 pounds.
30 cubic yards of loosely loaded construction debris weighs roughly 12,000 pounds.
15 cubic yards of yard waste weighs about 9,000 pounds * OK if disposed of by itself*
20 cubic yards of drywall debris weighs roughly 10,000 pounds.
30 yard dumpster loading capacity weight
As we've mentioned above, Express Roll Off dumpster rental allows for a generous weight you may dispose of when using our roll-off containers. However, as mentioned above, the county dump has restrictions on the type of debris not subject to additional disposal fees.
30 Cubic Yard Dumpster Loading Tips:
Ask the driver who is delivering your 30 yard roll off to open the hinged door for easy loading. Dispense of contents you are disposing in the container evenly (this not only allows more room for filling the container, but also aids us in the transport process ). Only load the roll off to the fill line. Express tarps each and every load before we haul it away to the dump. This is not only a DOT law, but also a set safety standard in transporting our roll off containers.
Heavy debris, such as: roof shingles, concrete, or dirt for example, are not allowed to be disposed of in Express Roll Off's 30 yard containers. The weight of heavy materials such as those above exceed the lifting capacity of our roll-off trucks. We recommend 15 yard dumpsters filled 3/4 of the way full for heavy materials such as the ones listed above.
When are 30 yard dumpsters recommended?
30 yard trash dumpsters are ideal for mid-large sized construction, demolition, remodeling, renovation, and larger scale clean-out projects.
30 yd roll off dumpsters are great for:
Dumpster rental for home demolition and large garage clean-outs

Large wood deck removals (500-1,000 square feet)

Kitchen & master bathroom renovations

Junk disposal when moving from one residence to another

Smaller home demolition, or shed/barn demo

Construction of new homes, cottages, or cabins

Large-scale yard waste removal (remember to keep the load clean).

Clean-out circumstances: (for example: foreclosures, hoarding, or estate clean-outs)
Of course, 30 yard roll offs are great for a wide variety of other projects as well. One great aspect about renting 30 yard containers are their versatility and price. It's the most advantageous pricing option that costs less than two 15 yard dumpster rentals (renting a 15 yard bin and needing it dumped and returned to you again - AKA - a dump return), and a 30 yard rental only costs $100 more than a 20 yard dumpster to rent.
Head over to our free dumpster rental quote page and receive a roll off quote today, or call 321-253-1080 or text us at 321-591-9559 Express Roll Off Dumpsters services nearly every city in Brevard County Florida. We have 10, 15, 20, and 30 yard containers for every sized project (large or small), and our prices and service can't be beat.