Express Roll Off Dumpsters Loves Your Reviews
Express Roll Off Dumpsters in Brevard County, Florida Google Reviews
We at Express Roll Off Dumpsters love nothing more than hearing from our rental customers. The best way to let us know how we're doing is through leaving a review. Google is the king of online reviews; which show up next to your Google My Business (GMB) profile on Google Maps. Express Roll Off Dumpsters of Brevard County, Florida works hard to deliver dumpsters to customers when they need a roll off (and pick them up in a timely fashion). Below are a few screenshots of a few of our favorite reviews left on GMB.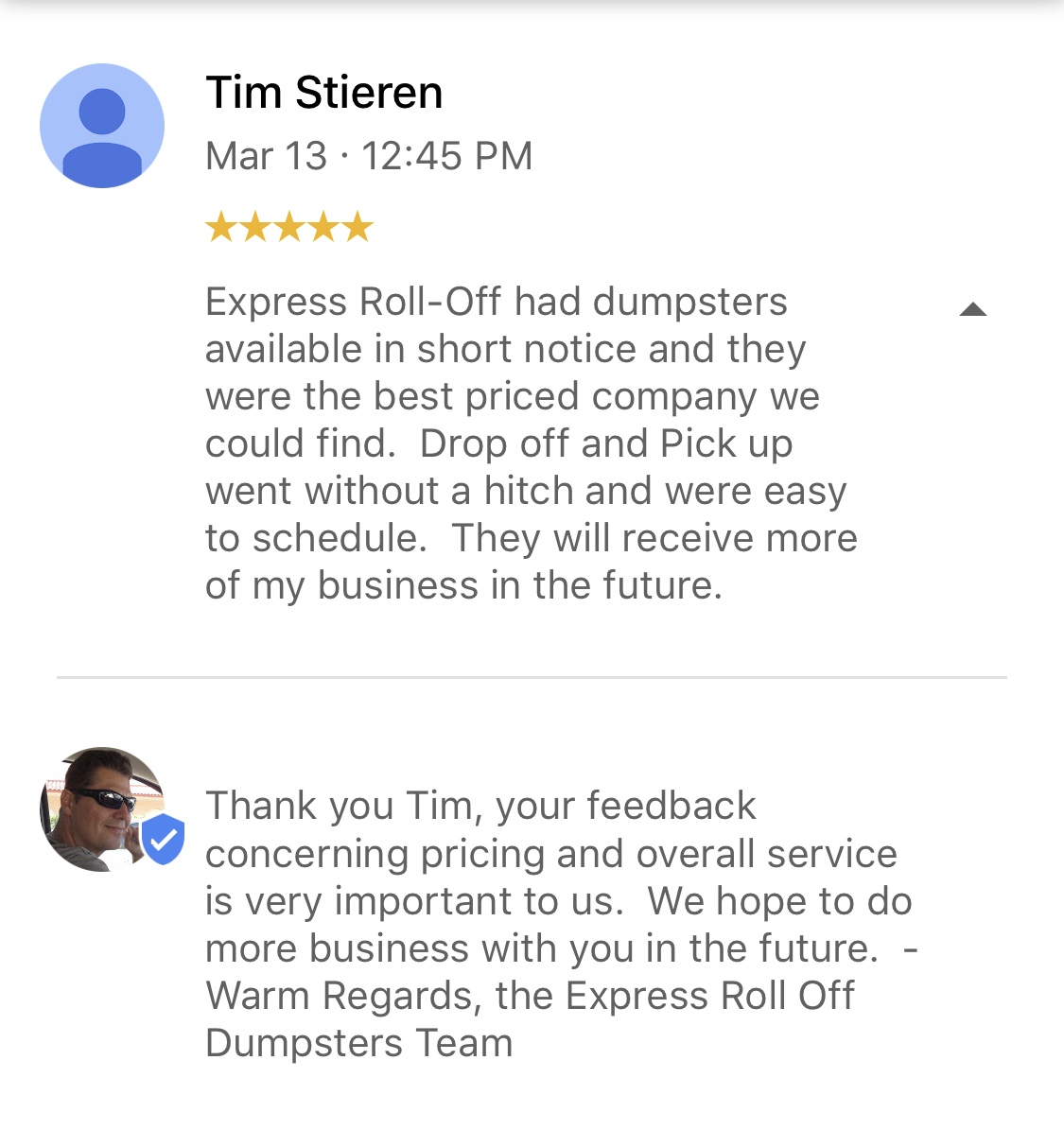 How Do You Leave An Online Google Review?
Before you can leave a review for us, or any business, you must first create a g-mail account. This process is relatively easy, and Google uses this as a step to provide legitimacy in your online review. You create a G mail account, verify it with an existing email address and look up the company through Google you wish to review in the search query. Once you have done this, click on the company's review tab; where you will see 5 empty stars, fill in how many you wish to leave, and then write a comment or two if you wish about the business you are reviewing.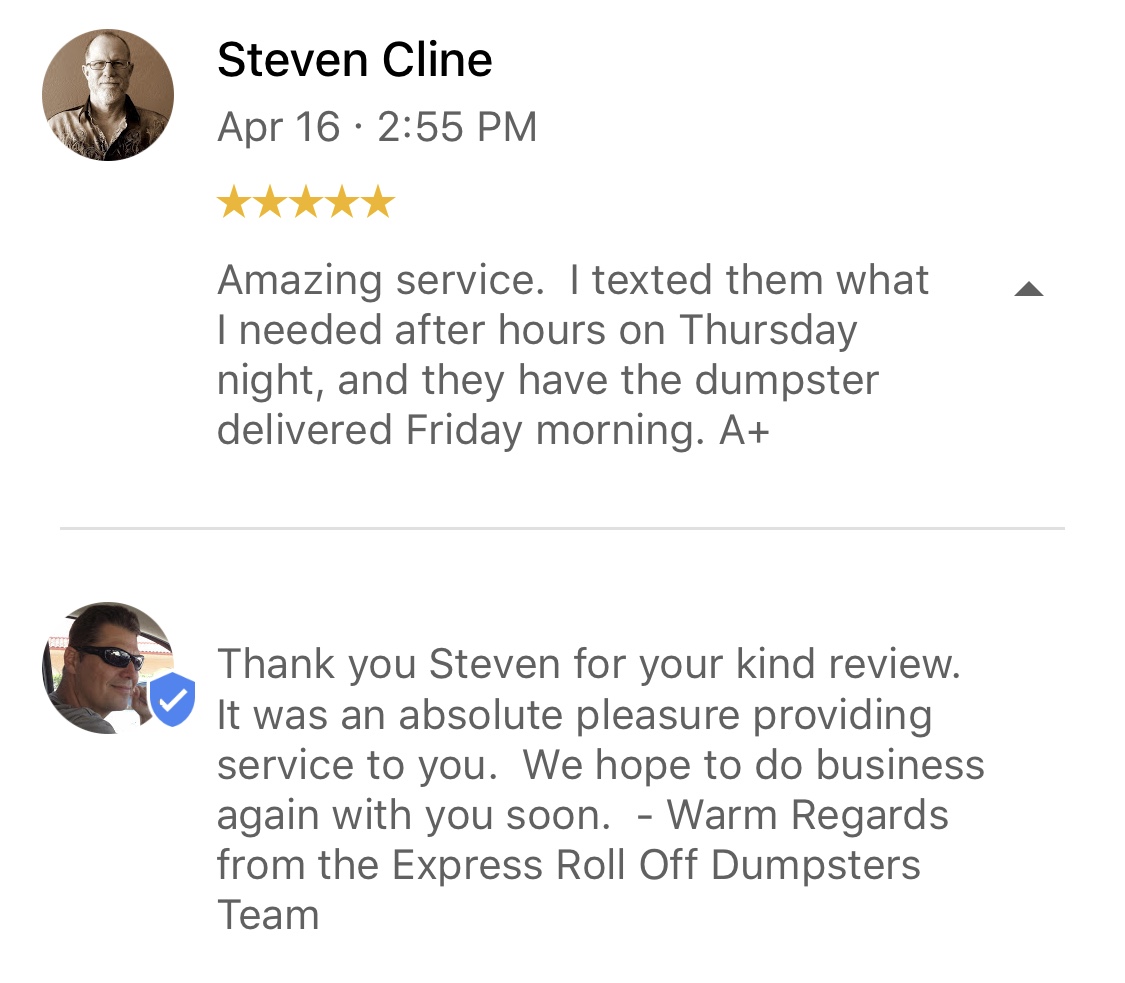 As business owners, we're busy, but never to busy to read and respond to the vital feedback online reviews provide to our company. Reading kind reviews from rental customers makes all the hard work we put forth in dispatching our dumpsters to: Palm Bay, Melbourne, Merritt Island, Titusville, Cocoa, Rockledge, and the beaches worthwhile.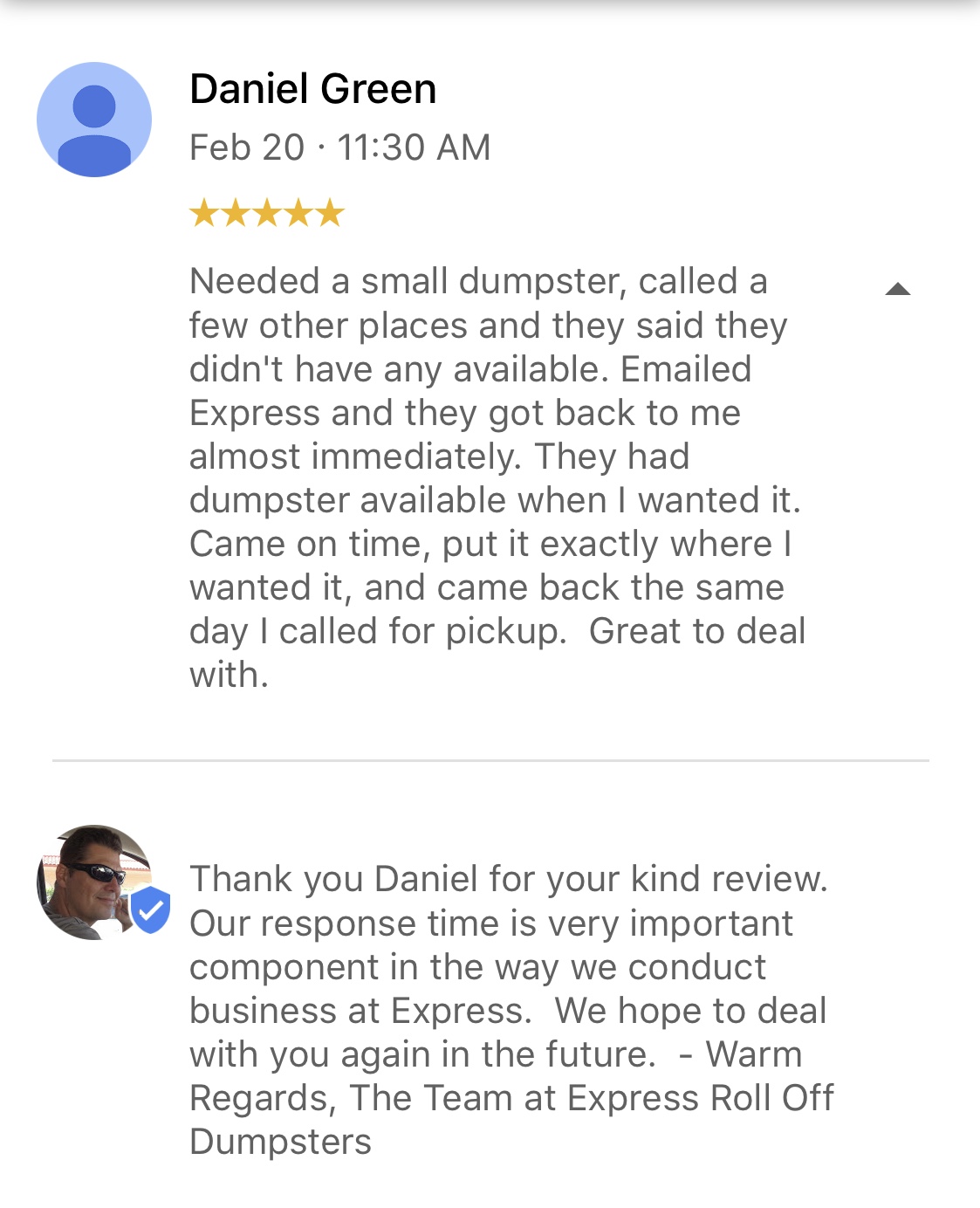 The biggest compliment a local dumpster company like Express can receive is to have a client say they will do more business with us in the future. We also enjoy comments about our speedy service and low prices of course.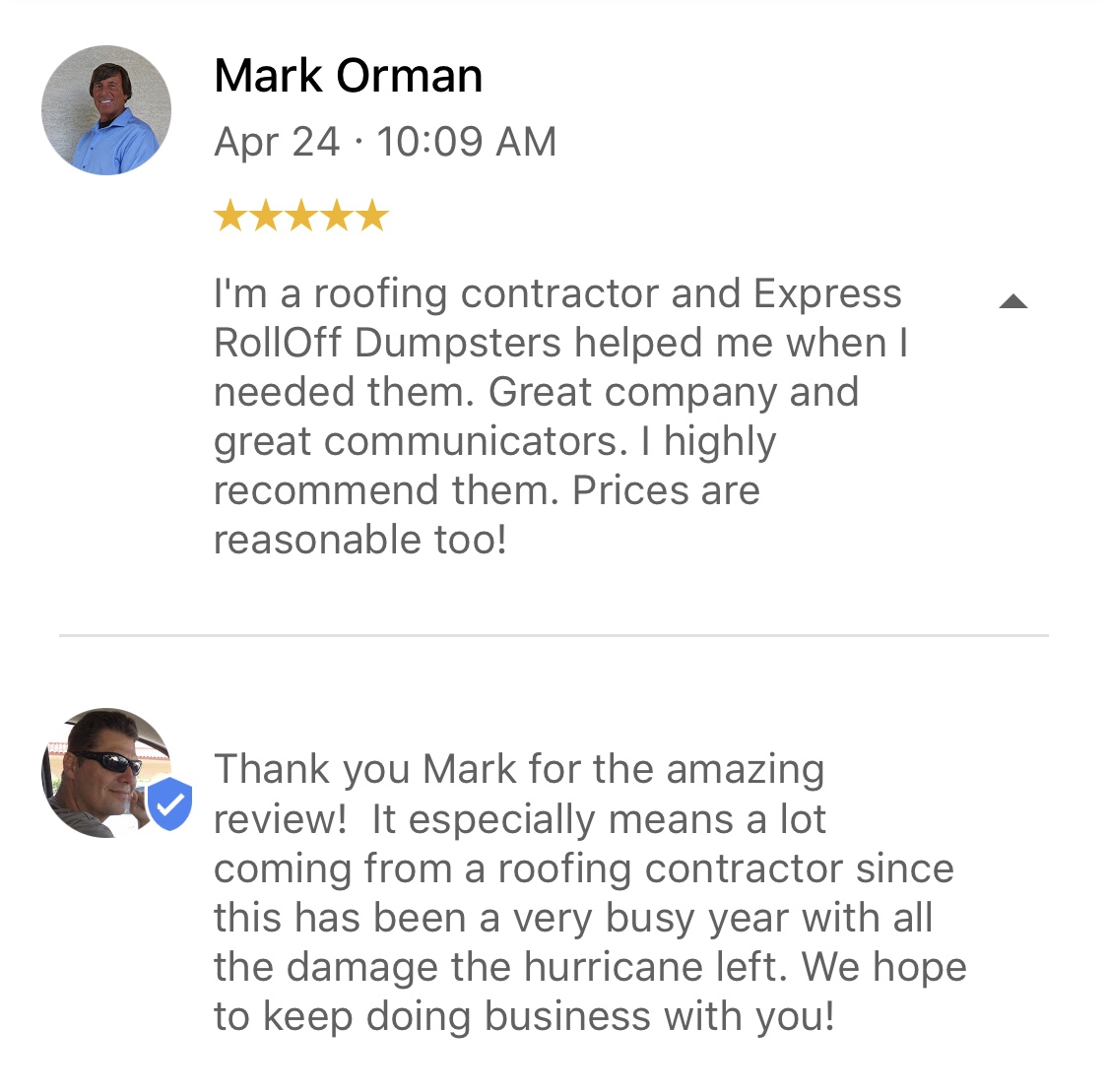 The above review is a huge compliment, coming from a roofing contractor! We were so excited to read Mark's feedback. This 5 star review definately made our day (especially after how busy the roofers were months after hurricane Irma with all of the insurance claims).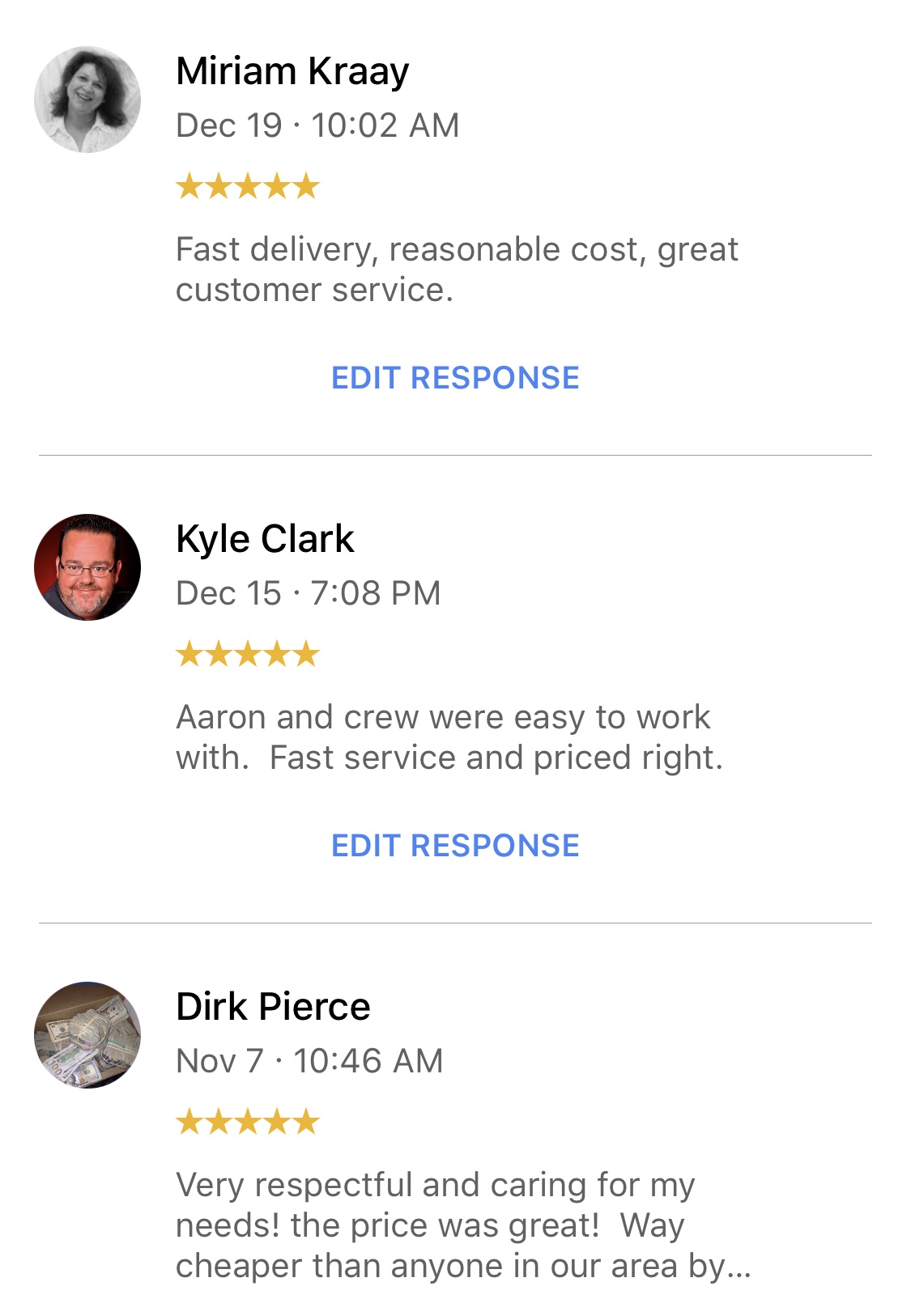 Express loves to hear comments regarding the friendly service we provide. We do our best to treat all of customers and their propery with the care and respect they deserve.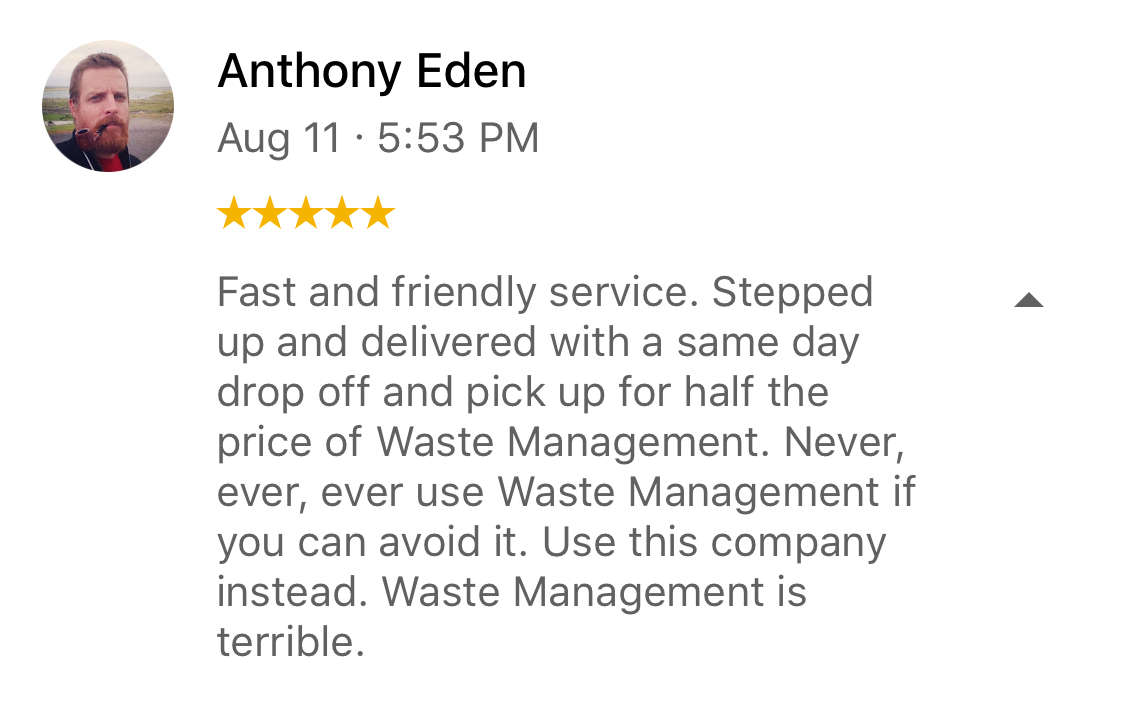 Our favorite online review is the one above. Express Roll Off's Dumpster Rental Prices are less than half of what Waste Management charges, for a longer rental duration. If you're in the market for temporary dumpster rental and your job site or residence is located within Brevard County, Florida, call Express Roll Off today to reserve your roll off 321-253-1080. Don't throw your hard earned cash in the trash and over pay for roll off rental!