Roll Off Dumpster Rentals For Construction
Express Roll Off Dumpsters provides construction dumpster prices from $16/day (based on 14 day rental period) with immediate delivery available.
We offer deep discounts on government and corporate accounts.
info@cocoadumpsters.com Contact us for volume and long term rates.
If you're not sure about which size dumpster you'll need call us, our friendly staff will be happy to assist you. Express Roll Off Dumpster Rental proudly services all areas of Brevard County.
Roofing Dumpsters
Competitive Rates / Bid Contracting
Servicing Property Management Groups
Industrial Development
Sub-Contractors & Renovation Businesses
Concrete Removal & Recycling - Paver Companies
Custom Builders & More
Landscape & Hardscape Contractors
Roll Off Containers For Demolition​
Restorations
Trash Containers For House Flippers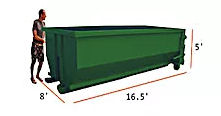 15 Yard Dumpster
This is the Rolloff Size Majority of our contractors order.​​ Perfect dumpster for dirt, roofing shingles, landscape debris, concrete, and remodeling waste.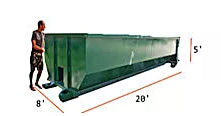 20 Yard Dumpster
This Dumpster works for the larger construction projects your crew is working on such as large kitchen or multi-room renovations. It holds 7 Canvas Bag dumpsters worth of debris.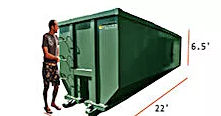 30 Yard Dumpster
When your crew is on on a seriously large job - industrial, demolition, or working on commercial, and/or government renovations - this is the dumpster size to reserve.