Frequently Asked Questions About Roll Off Dumpster Rental
You've never rented a roll off dumpster before and have questions. We have answers. Don't let removing junk and debris from your home or office become a headache. We're here to save you money on renting trash containers.

What Can I Dump & What Can't I?
What You Can Dump: cardboard boxes, furniture, junk, flooring, drywall, sinks, counter tops, bathtubs, glass, plastics (not containing liquids), dirt, books, clothing, metal (not appliances), fencing, concrete, PVC, roofing shingles, wood, rocks, faucets, lighting fixtures, etc.
Things To Avoid Dumping (Subject to Additional Charges)
Tires, Mercury, Lightbulbs, bio-hazardous materials, Electronics (TVs, Monitors, printers, etc.), appliances with freon (AC units, refrigerators, etc.). Also, See below on Landscape Debris mixed with other materials.
What You Shouldn't Dump
Landscape debris mixed in with junk or construction debris (unless this is all you are dumping). It is better to physically take these materials to the curb since the dump charges $41/ton mixed load fee (which we must pass along to you) if these materials are mixed in the dumpster with other debris such as construction debris or junk. Items such as mulch, sod, leaves, branches and trimmings, pond fronds, pond debris (any vegetation other than dirt, stone or concrete gets mulched at the dump)- which is why it must be separated.
Are There any Additional Dumping Fees?
If you are disposing of commercial renovations material, new construction/Govt. debris the dump charges $23.66/ton - we pass this charge along to you.
Events/Commercial Businesses (Yard Cans) Are subject to a $29.50/ton solid waste billable disposal fee by the dump, which we in turn pass along to you.
Food trash and pressure treated wood may be subject to an additional fee since it must be taken to the Cocoa Dump of $25-$50 - try to separate these materials.
Will The Dumpster Ruin My Paver Driveway?
We Recommend Placing a 1'x4' sheet of plywood underneath as a protective layer. Please call or text us ahead of time to request this feature.
What does it cost to rent a dumpster?
Call 321-253-1080 or getting a quote by filling out our rental form below. e charges. We provide you with a roll off dumpster rental agreement and affordable dumpster rental prices from only $14.28/day (based on 2 week dumpster rental term). We're $100s less than the dumpster brokers charge, and Waste Management, and we're more efficient too!
What Size Dumpster Do I Need?
Visit our sizes pages and use the cubic yards calculator and see dumpster dimensions, and sample projects listed below each of our four sizes (10, 15, 20, and 30 Yards) we offer. If you're still unsure or in question feel free to call us and we'll be glad to help determine which size works best for you.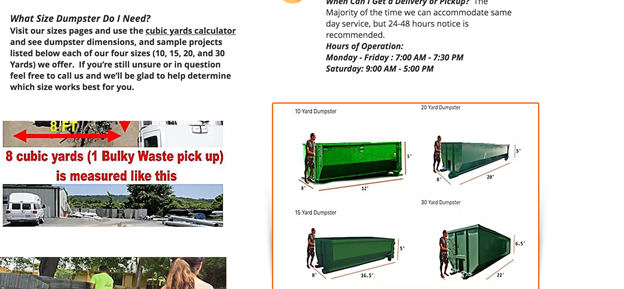 How Long is The Rental Period?
We offer a 14 day rental periods, versus competition's 10 days. Yet, we still charge the same price. Once Dumpster is dumped, if you still need the dumpster the billing cycle restarts.
When Can I Get a Delivery or Pickup?
The Majority of the time we can accommodate same day service, but 24-48 hours notice is recommended.
Hours of Operation:
Monday - Friday : 7:00 AM - 7:30 PM
Saturday: 9:00 AM - 5:00 PM
Are you hiring?
We're always looking for talented drivers with CDL B Class and Safe Driving record to add to our team. Please call our office for more information.