10 Yard Dumpster Rental Cost
10 Yard Dumpster - Small - Residential Dumpster Rental Prices
Included: 7, 10 or 14 Day Rental Period, Free Delivery & Pickup

If You're strapped for room, in your driveway or parking lot (ex. condominium), this is the smallest roll off option we have available. The 10 yard dumpster holds more than 3X the debris of the canvas Bag Dumpster. The 10 yard roll off fits roughly 3 pick up trucks worth of debris. And it works best for smaller residential projects such as: Clean outs, junk removal, garage trash removal, and smaller scale renovations.
---
Roll Off Dumpster Rental Near Me
10 yard dumpster rental cost - size - dimensions and use - residential dumpster rental prices
Small Dumpster Rental Prices - Looking for the cheapest prices on dumpster rental? Renting the smallest sized roll off container - our 10 yard dumpster - may seem like the best solution for your waste disposal needs. Did you know 80% of our customers that rent the 10 yard roll off container, actually need to rent a second dumpster? Most people (homeowners and contractors alike) have more debris than they anticipate. This mistake can end up costing you $150 more than if you were to have rented the next size up - our 15 yard dumpster.
10 yard dumpster waste management
If you have tried the above search term, you will quickly realize two things:
1) WM does not carry a steel 10 yard dumpster
2) Waste Management promotes the bagstir for the disposal or residential household cleanouts, do it yourself construction or small home renovation projects. The canvas bag dumpster (although readily available online and through the big box home improvement stores) does have a price besides the $30 retail purchase attached to it. The Bagstir pick up costs $169. plus taxes and local fees, and you will have to either transport your materials to where it needs to be picked up (curbside from WM hook lift truck) or lift the full canvas bag dumpster once you have filled it. Our smallest sized dumpster (our 10 cubic yard dumpster price is the same rate, if not cheaper for a 10 day rental term, but it is more sturdy than the bagstir, it fits three times more debris, it is sturdier, and you won't have to move it.
Residential dumpster rental cost - 10 yard dumpster rental cost is less at Express Rolloff Dumpsters. A 10 yd roll off dimensions - uses - prices 10 cubic yard roll off dumpster dimensions are: 12'L x 8'W x 5'H If you don't have a lot of space in your driveway or parking lot (for instance a condominium), or you have very little to dispose of, then this is the ideal garbage bin rental size for you. The ten yard trash container is the smallest roll off option we have available for rent. It holds more than 3X the debris of the canvas Bag Dumpster. The 10 yard waste dumpster fits roughly 3 pick up trucks worth of debris. This size is ideal primarily for smaller residential projects such as: Cleanouts, small scale junk removal, 1 car garage trash removal, and small scale renovations (half bath or small room flooring removal). If you are uncertain about the size you may need, it is always best economically to go up a size and spend $25 more, than to over spend on your roll off rental. This simple tip can potentially save you $150 - $175 on waste disposal.
The majority of home owners have never rented a roll off before and are not as familiar with which materials are prohibited and cannot be disposed of in the container. Liquids, chemicals, most appliances, tires, glass (including light bulbs), televisions, computer monitors, paint cans (unless completely dried), oil filters, Air conditioning units, batteries, gasoline, chlorine, propane tanks, oil, hazmat, asbestos, and cleaning agents are all examples of items that cannot be disposed of in the dumpster.
Commercial locations may be subject to additional dump fees, pressure treated wood, food trash, and landscape debris all have add on charges as well. Before calling and reserving your rolloff, learn how to lower your 10 yard dumpster rental cost here. At Express Rolloff dumpsters, we offer flexible rental terms to fit every budget, we have a variety of different size roll off dumpsters to accommodate both large and small scale projects. Express is a locally, owned and operated dumpster service. We do not sub-contract your work to the carrier costing you hundreds of dollars more. We believe in honest, fully disclosed prices upfront, and vow to treat you and your property the way it/you deserve to be treated - with respect. Call Express today to schedule your low cost dumpster rental today.
Each municipality has its own rules governed by the local landfills of what can and cannot be dumped along with its own set of up-charges.
"Are there any additional charges besides the cost of the rental?"
What you put into the roll off matters. Remember rules below and more than likely you'll only pay our low, flat, roll-off rental rate. Is your job or project at a commercial or government building and/or are you building a brand new structure (new construction)? All new construction job sites - a new structure is being built (whether it is commercial or residential) in Brevard County are charged a disposal rate of $23.66/ton. This municipal rate (applies to both the Sarno or Cocoa dump). Our landfill account is charged, then we pass the dump fees on to you (the contractor or homeowner). Express Roll Off only charges our customers the actual amount per ton being disposed of (we do not profit on this). 'Commercial Renovation or Government Projects' - are also charged $23.66/ton disposal in addition to the container rental rate.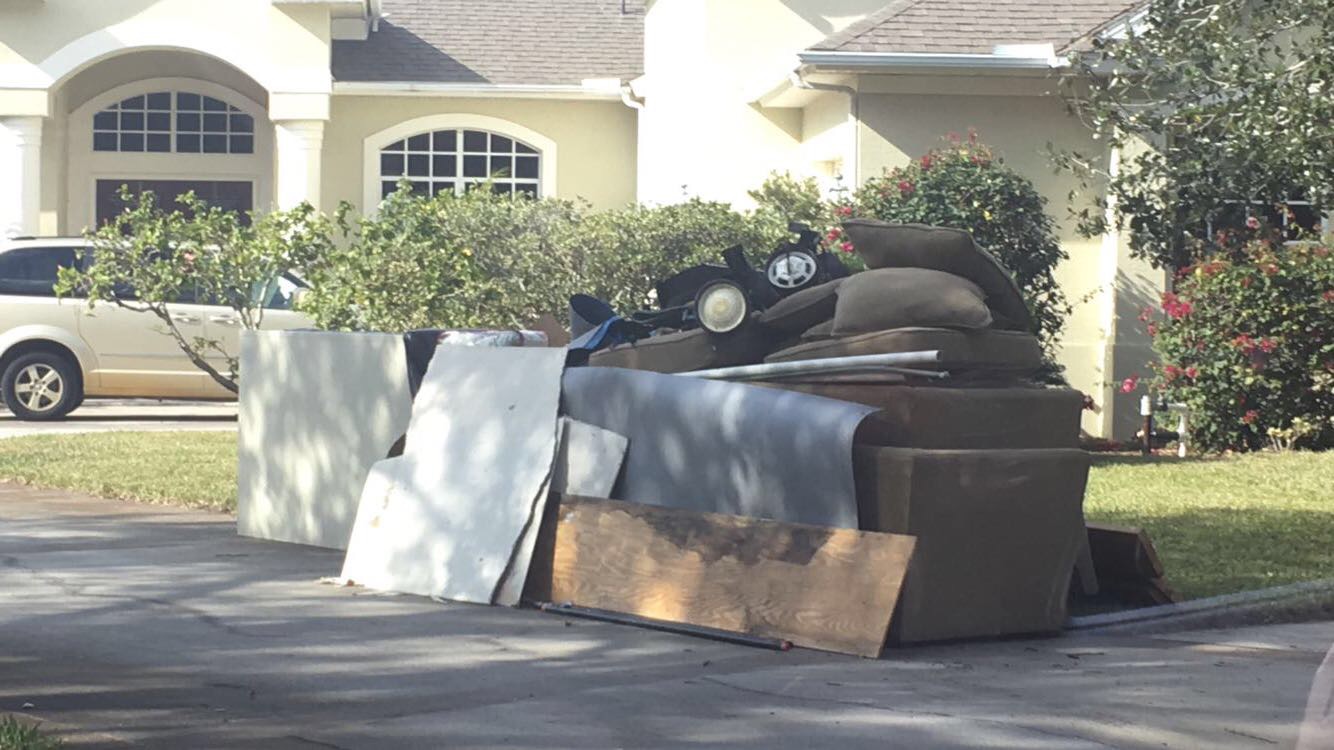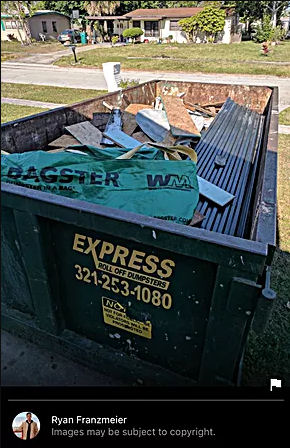 Do you Need a 'Yard Can' for your business (commercial location)?
If you're disposing of weekly waste at your business address, you may wish to rent a roll off container for ongoing commercial-use. Depending on your business classification, solid waste billable charges could come into play. As per your commercial address - the rate for this type of disposal is $29.50/ton. Express only charges for the actual tonnage costs incurred of what your business incurs. If your business falls into the 'Solid Waste Billable' category.
Are you Disposing pressure treated wood and/or food trash?
PT (Pressure treated wood) includes: fencing, wood siding, wood decking, board, 2 x4s, etc.). Food trash, like PT can only be disposed of at the Cocoa landfill. We charge a one-time extra fee for this - principally for the nails; due to additional travel and the conditions of this landfill, versus the Sarno transfer station.
Are you disposing of any vegetative waste?
If your load only contains landscape debris (without any household junk or construction debris in the dumpster) additional charges will not apply. However, if landscaping debris is mixed in with the other aforementioned items, the landfill considers this a mixed load and the $41/ton "staff assisted" rate applies.
What does the county consider vegetative debris?
leaves, branches, palm fronds, tree trunks, and mulch, weeds, pond plants, shrubs, algae, and sticks.
What does not qualify as vegetative debris?
Dirt, stones, rocks, or pavers do not qualify as "landscape waste".
Why does Brevard county charge for this?
The landfill workers have to separate these materials (in order to save room at the landfill). Then the local dumps mulch the landscape debris and recycles it.
* Caution - all wood isn't created equal - sticks and PT mixed together = a mixed load. - $41/ton *
* Rubber mulch is prohibited, since it's composed of tires and cannot be disposed of*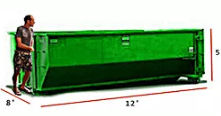 Where can I have the dumpster placed?
This depends on the job site or property layout. We recommend placing the roll off container in your driveway or on the grass. We cannot place the container in the road, in garages, in backyards, over sprinkler systems, water manes, unpaved driveways/dirt roads where our roll off trucks may get stuck, or under overhanging utility lines and/or tree branches where the boom (lifts up) of our truck cannot extend (our trucks have a trailer that lifts approximately 30 feet into the air when lifting the bin).
Do you have heavy materials to dispose of, such as: concrete, dirt, or roof shingles?
The largest size roll off we use for this is our 15 yard dumpster only filled 3/4 full. Our rolloff trucks utilize hydraulic systems that can't be overloaded. When you have a heavy load, hauling material such as this, puts quite a strain on our equipment.
Do you have a brick paver driveway you wish to protect?
Tell our dispatch team when you call about wanting to protect your driveway, they will instruct your driver to put wood down. We recommend purchasing 2 pieces of plywood before having your bin delivered (measuring 1" wide x 4' Long).
Blocked Dumpsters - Gate Codes - Locks - Cancellations - Delays - Overfilled Cans
If we cannot gain access your property or job site during pick up or drop off of the roll off bin, we have wasted a trip. Situations where gate key codes are not conveyed to our dispatch team, the waste bin is blocked by vehicles/equipment, a job site's gates are pad-locked, or you need to reschedule your drop off or pick up date and fail to convey this to us - are considered "wasted trips". Travel fees will be added to compensate for lost time - "trip fee". Please be courteous and communicate the aforementioned factors to us. This way we can ensure our driver has access to drop off or pick up the trash bin without delays and/or a trip fee.
We're required by DOT (Department of Transportation) law to tarp all of our loads when we pick up your roll off. If you fill the container above the fill line (lip of dumpster/or yellow line) we cannot safely transport your debris. We will either charge a fee for the overfilling the dumpster or charge a wasted trip fee for our inability to transport the bin. Our loads must be covered by law, in order to secure any debris from flying out; which could cause injury to others on the road during transport.
How much lead time is needed for drop off an pick up?
In order to ensure delivery at the timeframe and date that's are ideal for you, 1-2 days lead time on both drop off and pick up are recommended. Booking too far out in advance is not ideal, because unforeseen circumstances can creep up, neither is waiting until last minute.
What are you hours of operation?
We are conveniently open for business six days per week (Monday - Friday 7 Am - 7:30 Pm, and on Saturdays from 9 Am - 5 Pm).
* Home owner tip -Schedule a late afternoon or evening delivery, since our contractors tend to reserve the morning delivery time slots. *
What if I need another roll off (your dumpster is full), but you have more to dispose of?

Call or text us if you need a second dumpster or swap out (also known as a dumpster switch out or a dumpster return). Many times we can accommodate same or next day service with both switch outs and dump returns. Please remember that the billing cycle will start over again once your original rental has been dumped.
How does pick up work? Do you come automatically or should I call?
It is best to call us when you are finished with filling the roll off. Please allow 1-2 days lead time when picking up your dumpster.
How can I Contact Express Roll Off Dumpsters?
Call Express at 321-253-1080, text us 321-591-9559, or email us at info@cocoadumpsters.com
How can I maximize room (space) within the rolloff?
The most efficient way to load the container is to load everything evenly (disperse the contents equally). There are often air holes/pockets where there is empty space inside of dumpster. Moving the contents around within the dumpster or crushing up bulky items (when possible) can help you maximize what will fit into the container. Stack the contents into the dumpster like you would a Jenga puzzle (without overloading above the fill line). Remember when you're disposing of heavy materials - only load the container 3/4 full. Our roll offs have doors that swing open. They are dumpsters with walk in option - please ask our driver upon delivery to open the door to the rolloff for you, since they can be difficult to open.
What is a C&D load?
C&D stands for construction and demolition debris - this is often referred to as contractor job site contents disposed of in a roll off.
Other miscellaneous dumpster rental tips:

Beware of "cheap fly by night companies" they may not be licensed or insured - if damage occurs to your property, you will end up stuck paying for repairs. Express Roll Off is a licensed & insured hauling company.
Read ratings and reviews - and check out who is a legitimate, local business
Avoid toll-free numbers or companies that have a huge service area - these are middle men - AKA waste brokers - they don't own dumpsters. They arrange your sale with actual carriers like us, but charge you $100s more.
Caution on the cheapest dumpster rental price - because in the end it may not be. some companies may hit your credit card with numerous add ons later, or provide terrible service (ex. your bin may sit on your property for weeks without being removed).