What Can't I put In The Dumpster? - Read & Save $20!
What Cannot Be Dumped in Roll Off Container - Read And Save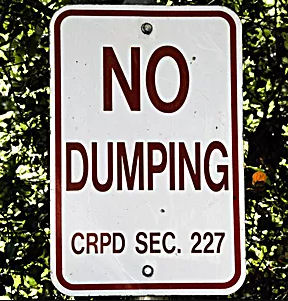 One of question we get all of the time is: "What shouldn't go in the dumpster?"

Most basic answer: anything in liquid family or related to it. Cleaning liquids, chemicals, wet paint (completely dried out paint cans are okay), batteries (because of battery acid), oil based materials (ex. tires). Biological hazards/waste are an obvious no-no; as are hazardous materials. Lightbulbs, asbestos and freon-based items (including appliances such as: refrigerators, Air conditioning units, etc.), and electronics (televisions, monitors, printers, etc.) also should not be dumped. Also avoid dumping gas cans, oil cans, and propane tanks.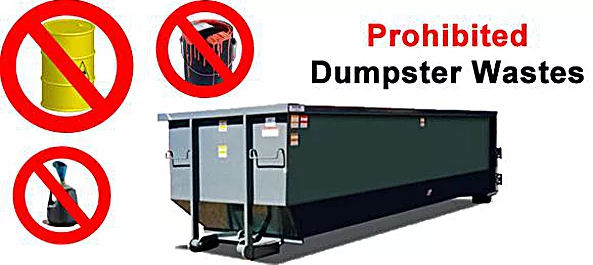 Can I throw landscape debris in my dumpster?
*** If you dump landscape debris with construction debris or junk, our local landfill considers this a mixed load (which is $41/ ton) - we unfortunately have to pass this fee directly down to our customers. What does the municipal dump consider landscape debris? palm fronts, mulch, leaves, sticks, tree branches (sod, dirt, and rocks are ok). Since yard waste is biodegradable, the local dump separates this material so that it will not be dumped in the landfill. They mulch these materials, and even offer free mulch (it is smelly though) - to the public. If you only have yard waste to dispose of, you won't be subject to mixed fee charges, but don't think of mixing anything else in the dumpster with it (even wood fencing - since it's pressure treated). In order to compost yard materials and save the labor on separating them, the dump imposes the hefty mixed load fee. The best practice is to place any vegetative debris at your curb, because your neighborhood trash hauler will pick these materials up with a grapple truck (included in your property taxes). You may need to call WM or whoever handles your city's garbage pick up to alert them to pick up your curbside brush, since they don't send the grapple truck out regularly like they do with regular trash pick up and recycling pickup. If you don't mind paying $41/ton for a mixed load at the dump - go ahead and throw your branches in the dumpster along with other debris (garage clean out items for example). We just wanted to educate you on this, since these fees are imposed by Brevard County's Solid Waste Authority (not us). See Brevard County, Florida's waste rules and regulations.***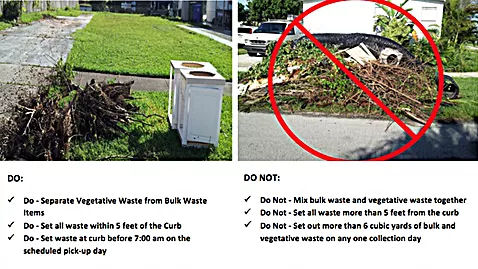 Other Random fees that may be incurred are:
Travel charges- Brevard is a long county (geographically one of the longest counties that there is) - locations in Port Saint John and north, as well as cities Malabar and south may incur a $25 travel charge.

Food trash & Pressure treated wood- may incur a $25 fee. We have to travel to the smelly Cocoa Dump to dispose of dumpsters containing food trash or pressure treated wood, and most of the time this is out of the way.

Dry run fee $100 - when attempting a pick up or drop off, please be sure there is clearance for our trucks to get in and out, we have your gate code, someone is there to pay or tell us where to drop the dumpster, nothing is blocking the dumpster, you forgot to change delivery time with us, etc. Our dispatch team tries their absolute best to communicate with you when we will be at your location, and where the dumpster needs to be placed. See our rental agreement for tips and policies to save you time and money on your rental. We want everything to go smooth with the rental process, and there's nothing worse than having a driver en route with 7 deliveries to make after yours and he can't pick up your dumpster because there's a vehicle parked in front of it.

Overfilling the dumpster: We all want to fill the trash bin to the max, but unfortunately we have to securely fasten a tarp over the dumpster in order to safely transport it. This is DOT law so please to not fill over the line or 6" lip of the roll off bin.

Dirt, concrete, stone, and other heavy materials (tile shingles) only fill 15 yard dumpster 3/4 full. Our trucks operate on hydraulics that are very expensive to fix, please respect our equipment and don't overfill our dumpsters with heavy materials such as those mentioned above.

Power lines, tree branches and other hanging items: Our trucks have 30 foot boom (metal trailer operated by hydraulics that literally rolls the dumpster up onto it as if it were a roller coaster car) - if anything is hanging above the clearance of the boom, your property may get damaged, so make sure there aren't any overhead obstructions in the vicinity you intend for the dumpster to go.

Paver Driveways - We recommend purchasing a 1 foot x 4 foot piece of plywood from your local home improvement store in order to protect your driveway (from getting scraped, scratched, or damaged). Please alert our dispatch team a few hours or more before your scheduled delivery so our driver can get out of his truck to accommodate you. If you elect for us to put wood down, there is an additional $25 charge for this.

Dump returns & Switch Outs- the rental fee starts over again even if you don't use your full two week rental term. If the dumpster is full and we take it to the dump yet you still have more items to dispose of the rental cycle starts all over again.

Re-locating dumpster - Please call us (contractors like roofers are typically who this applies to) and we will be happy to relocate the dumpster for your with our equipment. Please do not attempt to move the dumpster yourself. Charges may vary based on our daily service volume and city dumpster is located in.




Additional time Needed on rental - We understand "life happens" and sometimes other things come up, preventing us from finishing projects when we anticipated. If you need extra time on your rental, $10/day additional may be incurred.

Dumpster Pick Up- nobody wants to get stuck looking at their trash longer than they have to. Or maybe you have an HOA or condo association with strict rules. Please call 48 hours before-hand when you need your dumpster picked up. Luckily we offer free delivery and pick up, so giving us "a heads up" ahead of time when in need of a pick up isn't too much to ask.
Commercial dump fees (Contractors Only - Generally only apply when renting a dumpster)
New construction (whether commercial or residential) has dump fees of $23.66/ton and
commercial renovation (commercial or government) improvements (demolition not associated with a residential address) are subject to these fees as well.
Clean concrete on the other hand is free to dump. It actually gets recycled at the concrete crusher into "fines" or base material and resold to be used to hardscape driveways, pool decks, walkways, and more (brick pavers).
Express Roll Off only charges you the actual dump fees that are incurred (through our dump license). We do not inflate these charges, which can be found by clicking here : (click the PDF file of special rates and gate charges). We keep copies of our weigh tickets, which reflect the address and our dump account, actual weight of rubbish disposed of, if you need reference for your records.
We as haulers need to comply with Board of County Commissioner's solid waste authority.
In order to save on any additional charges incurred, try to keep food trash and other unrelated items out of the dumpster. Also pressure treated wood, since both must be dumped at the Cocoa Dump which is farther for us to travel.
Big money saving tip: how you load the dumpster is so important. We recommend you fill it like you would a suitcase. Evenly distribute the weight of the contents so the dumpster is filled like a Jenga puzzle. If you don't air pockets of empty space (because it's not packed down properly) are wasted. You don't want to miss out on valuable room the dumpster still has & you already paid for because trash is packed unevenly.
Most of the time items can be crushed or smashed down and moved around to accommodate more room than you expected. Re-situating the contents may save you on an additional rental. Just remember, we need to place a tarp across the top off your roll off, so don't create a mound (make sure the debris is only to the lip or fill line).
Thank you for choosing to rent a waste container from us. And thank you for taking the time to read this article. We truly hope your rental has been easy and stress free. Don't forget to leave us a Google review and spread the word to family, friends, and colleagues.
In Summary, here's a look at what can & Can't go into your roll off rental. Just for reading this article, save $20 on your dumpster rental by mentioning the coupon below. Call Express at 321-253-1080 to book your dumpster rental today!