Back to School Declutter - Time for a 15 Yard Dumpster
Brevard Dumpster
Blogs
Hits: 864
15 Yard Dumpster Rental For Back to School Declutter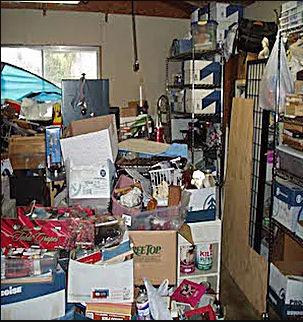 Your precious child is going back to school. This is a busy time for parents, teachers, and contractors. Perhaps you've waited all summer until school would resume to get a particular project done. When my fourteen year old is home with me, the last thing I want is to have our privacy compromised, or feel obligated to choreograph contractors around my property. So, if you're anything like me, you've probably put off the re-roof project, kitchen remodel, garage de-clutter, attic clean-out, or a similar project. Aside from the inconvenience of workers around your residence when you want to enjoy your yard, have dinner uninterrupted, or simply pull in and out of your driveway to run errands or take your children to activities; there's also the time factor. You know as well as I do that a two week time-frame quoted by a contractor actually ends up turning into a month or two. Perhaps the contracting company had good intentions when they originally gave you the estimate and looked at their schedule, but since then they've added a few jobs they've decided to juggle in with yours. Yes, I've had that happen to me, more times than I can count and I often think back to the classic movie The Money Pit and imagine Tom Hanks wrapped in his oriental rug, trapped in the whole in the floor - singing "banana wanna fo-fanna." 'Two weeks' was the time-frame originally quoted to him as well.
Aside from the joy our children bring us when they're home for a long stretch like summer break, they also accumulate clutter. I personally wanted to spend as much time with my teen as I could in between her busy schedule with sports, summer camps, and community service. But now that she's back in school… let the renovations begin. I know you're sad and don't know where to begin, but whether it's you doing the work yourself or a contractor, you're probably in need of dumpster.
Here are my personal decluttering / purging tips:
Tip 1
Once Upon a Child will purchase your gently used items, so make a pile of clothing (they are not big on white by the way - because it tends to yellow), toys that look new or next to new, tables and chairs, books, games, etc. A great rule of thumb to go by with purging is "anything that hasn't been used within the last year needs to go."
Tip 2
Have a yard sale and advertise it for free the night before on Craigslist and the morning of. Be sure to include clear directions to your residence, times and dates of the sale, and take some pictures of the really nice items (disney stuff, Barbies, Legos, etc.). You should also list these items in your ad, along with clothing sizes and gender of the items you're selling. Buy the pre-printed neon pricing stickers at dollar tree and adhere the stickers onto your sale items ahead of time. Early birds love to hit yard sales, so doing this ahead of time is wise. Allow your children to work the yard sale with you. Give them a small cash bank and depending on their age allow them to sell a table of their items, lemonade, bottles of water, and/or baked goods. When the sale is over let them keep the money they made on what they sold. This is a great teachable strategy that children love (because they felt like they were playing "store" - yet they are learned not to be wasteful and they're developing a work ethic). This will also reduce the probability that they'll argue with you to keep items you know they haven't used in a while- usually for sentimental reasons.
Tip 3:
Call Salvation Army or Goodwill and donate the majority of the items that did not sell. In most cases they will come out to your home if you have big bulky items you're donating (but they need to be in reasonable condition too). My husband once wanted to donate a scratched up, ripped leather couch to charity and they didn't want it.
Tip 4:
Once the yard sale is complete and you've donated to charity, call Express roll Off and rent a dumpster. If you're unsure about which size you'll need: a 10 or 15 yard size are the best for homeowners. You can feel good about the fact that you have re-cycled the majority of your worthiest items; knowing they won't be filling up the local land fill. The photo below illustrates 15 cubic yards of debris (in canvas dumpster bags - 5 bags x 3 cubic yard capacity)- just one of our steel 15 yard dumpsters holds this amount of waste.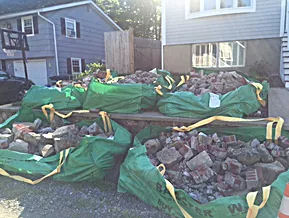 Tip 5:
Once your purging is done, call 3-5 contractors and get estimates on the projects you've put off. Even if the people seem nice and fair shop around and compare prices. I was quoted $7500 to have a gigantic tree removed in my back yard by company A, company B said they would do it for $4500, seeing the large prices difference, I almost contracted with them, since this was what I budgeted since this tree was the size a five trees in one. Then I remembered a company I was pleased with that did some tree trimming for me in the past. They quoted me under $2,000. Luckily, I gathered the third estimate, was familiar with their work, and best of all I saved a lot of money.
Additional savings idea:
If you have a community yard sale and have neighbors that want to split the cost of renting a dumpster with you, this is a great way to save (as long as they don't throw prohibited items into the bin or vegetative debris). A 15 yard dumpster fits roughly 5 full canvas bag dumpsters or four and a half pick up truck loads of junk. Express Roll Off Offers free delivery and pick up and best of all you won't have to make multiple trips to the local dump.
Call 321-253-1080 and ask about our dumpster rental prices and specials and reserve your roll off today. We at Express Roll Off hope you and your children have a safe, happy, blessed school year.