Dumpster Rental Palm Bay Fl - Express Roll off Dumpsters Brevard County Florida
Brevard Dumpster
Blogs
Hits: 929
Dumpster Rental Palm Bay Florida - Express Roll Off Dumpsters Brevard
When you need a dumpster rental in Palm Bay, Florida, it can be a pain to find a good company. There are some things you should know before renting. First of all - size. You need to decide how big your roll off needs to be and then get the right size for you. If it's too big, then there is no reason to rent one that is too big for what you need because you will end up paying more money for more space that you don't need. The same thing applies if the rental container is too small - it will fill up fast and not do the job that it needs to do effectively. The next thing is cost - many people think that dumpsters are free but they are not! You have to pay money in order to rent them. Dumpsters for rent in Palm Bay Fl is provided by Express Roll Off Dumpsters as the leading provider of roll off dumpster services in Brevard County Florida. They have a wide variety of dumpsters and rental terms for both residential and commercial use. Call Express Roll Off Dumpsters today at 321-253-1080 for your free quote.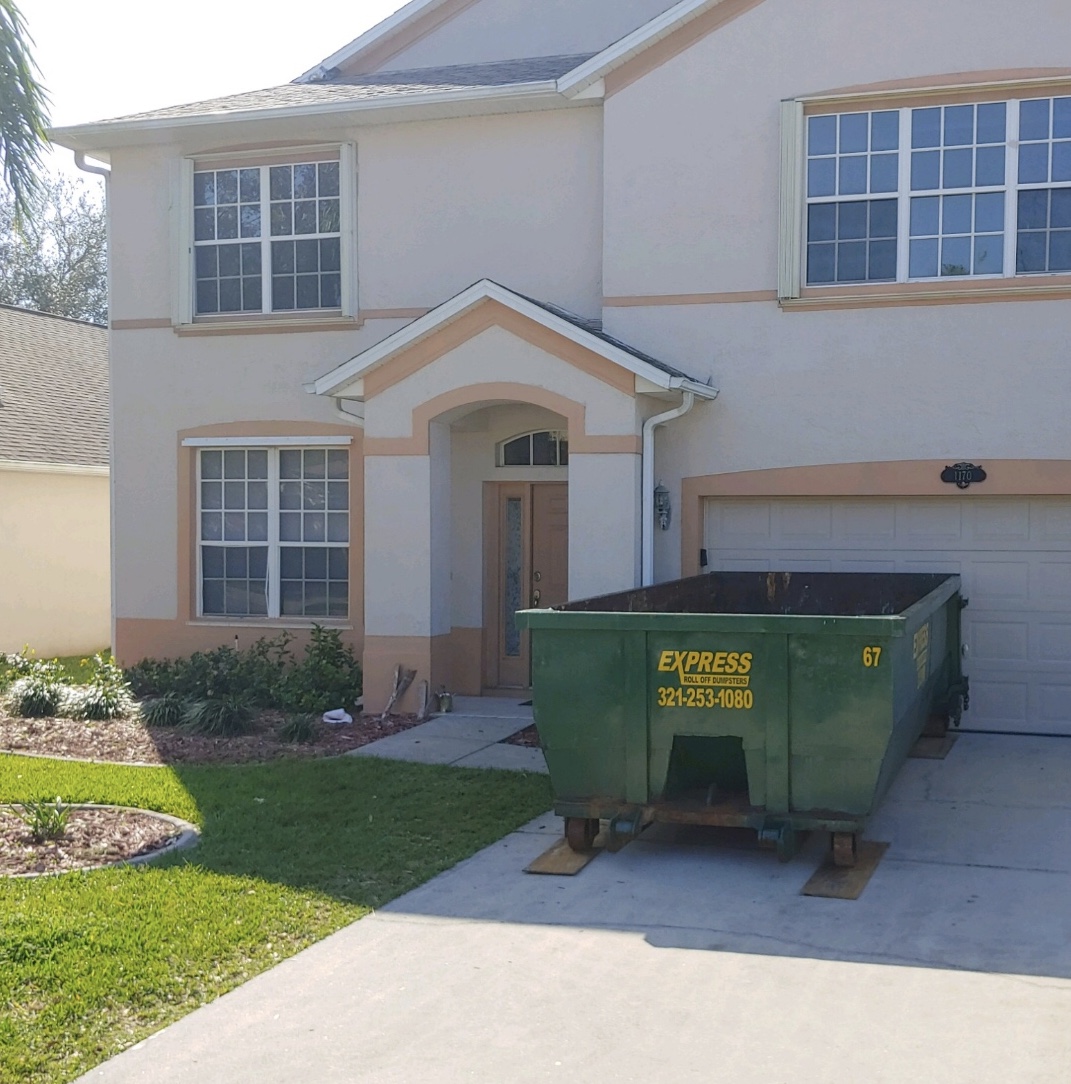 Dumpster rental is a cost effective solution for businesses and homeowners to get rid of their junk. It is also a safe way of disposing hazardous materials. There are some things that you should know before hiring a dumpster company that can help you decide which one to go with. - Know the size of the waste container that you need, some are small enough for just one room, while others are big enough to clean your whole property - Know what size of dumpsters you can fit on your driveway or in your parking space. If they are too large it might be difficult getting the roll off where you need it - Find out how long it will take before they haul away your waste container - some companies have a faster turn around time than others — Dumpster rental is the process of renting a roll off for a specified period. This can be done for different reasons such as construction, renovation or cleaning. The process involves renting the roll off, transporting it to the desired location, and emptying it once it has been filled. It is important to ensure that the trash does not exceed the weight capacity and that you are able to transport and empty it in an efficient way. — The relevance of a roll off rental is not lost on the residents of Palm Bay, Florida. In fact, there is a lot that you can do with a roll off container rental Palm Bay Fl - Express Roll Off Dumpsters Brevard County Florida. It makes sense to rent a roll off if you have an event near your home, remodeling or just moving in or out of your house. You might also decide to rent a dumpster if you need space for extra storage that isn't in your house. In addition to being useful for all these reasons, renting a dumpster from Express Roll Off Dumpsters Brevard County Florida can be very affordable and convenient! Dumpster rental prices can range from $175 to $550 for a dumpster. We at Express Roll Off Dumpsters Brevard County Florida offer the best prices and service in Florida. We also offer convenience customer support hours of operation and free delivery at no additional charge. We provide the best dumpster rental service in Palm Bay Fl and Brevard County Florida and we provide the most competitive prices available! Dumpsters are just one of the many ways that you can get rid of your junk. This article covers what roll off dumpsters are, how they work, and their various uses. What is a Dumpster? A dumpster is a large container that holds junk or trash.
You can rent them for a variety of duration periods. They usually come in different sizes to accommodate different types of projects. The most popular type is the roll-off dumpster, which comes with an open top and a hinged door. These models typically have wheels or skids to make transporting the dumpsters easier on both the customers and the company providing them to you. It is important that we dispose of our bulky and heavy trash in a manner that does not cause any harm to the environment. Bin rental services are a great way to go about it. We provide you with a waste container for your trash and we dispose of the trash at the landfill for you too. Here are some benefits of dumpster rentals: - Environment friendly disposal - Easy to find - Affordable prices Roll off rental Palm Bay Fl is the cheapest and most convenient way to get rid of any type of junk or construction debris. There are various sizes to choose from, so you can either rent a 10, 15, 20 cubic yard dumpster or even a 30 cubic yard dumpster. Express Roll Off Dumpsters offers free delivery and pickup for your convenience. Waste management is an area that requires proper attention. Waste disposal is important to ensure that the environment stays clean and it is safe for people to live in. A waste container bin rental is a great way to ensure that your rubbish is disposed off properly, so it doesn't affect your surroundings or cause any environmental problems. There are many things you need to keep in mind when you are choosing a roll off for your project. The size of the container will depend on the type of debris you are looking to dispose off, the location and how often you will be using it.