Brevard Dumpster Rental Open Saturdays - Express Roll Off 9am-5pm
Brevard Dumpster
Blogs
Hits: 799
Weekend Dumpster Rental in Brevard At Express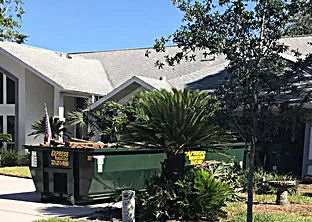 Most of us consider the weekends amoungst the most precious time periods we have in the whole week. A rest from work, time to catch up with family and friends, time to worship, or time to catch up on the chores we've procrastinated. If you've considered do it yourself projects like some of the pin boards on Pinterest, and consider yourself I hands on person willing to save money, the weekend is probably the time you've reserved for such things.
Most improvement projects require going to your local hardware or home improvement store. Its frustrating when we forget to purchase something at Lowes and have to turn around and go back to find the item. Our project gets delayed, but without it, we realize we can't continue. You may have forgotten something else to… a place to put your garbage! This is a frequently overlooked component of most home improvements. Does the scenario below sound familiar?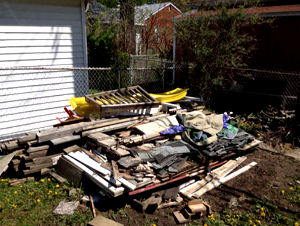 Maybe you have a new tile picked out and plan on replacing flooring in your outdated guest bath for example.... did you plan on where you are going to put the old flooring your discarding of? Maybe you haven't thought that far ahead and your knees deep into a home improvement project. Have no fear Express Rolloff Dumpsters is here for you. We're conveniently open on Saturdays from nine in the morning till five in the evening. Don't run the risk of having piles of unsightly debris in your garage until you can contract dumpster delivery on Monday most of us don't plan out that far in advance, but why run into snags when you're in the middle of a complex project you may have never done before? This can cause stress in the home, start fights, and lead to hiring an expensive contractor to take over the empowering project you thought you could do yourself.
We've all heard the story too many times, just like in the movie the money pit your renovation will be done in two weeks! Two weeks comes and goes and turns into two months and you have an unsightly unfinished remodel underway without a Completion date in sight. Too many fly-by-night contractors promise you the moon and then get calls while they're in the middle of your job, they take on more work, and your job ends up on the back burner.
Be sure to plan your DIY project properly and don't forget to call for dumpster delivery. Remember out with the old in with the new, but what are you going to do with the old? We've got your back Express rolloff dumpsters, with our variety of different size Dumpsters from a small 10 yard to a gigantic 30 yd.³ rolloff container. 321-253-1080 Open Saturday 9-5