Construction Dumpster Rentals For Contractors
Contractor's Guide to Construction Dumpster Rental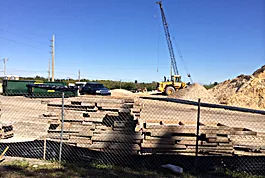 Express Roll Off Dumpsters Guide to Construction Dumpster Rentals
Demolition site roll off rental
There are several key factors to consider before renting local roll-off dumpsters for immense commercial construction or demolition / renovation projects. Some of the key respects include: the type of debris disposed of, the volume of waste, the estimated project's duration, the availability of the local dumpster rental provider's roll off stock, turnaround time, pricing, and more. Proper scheduling can easily reduce dumpster rental prices relative to a large project by 22 percent or more.
FOR EXAMPLE: A contractor who plans carefully while working on a commercial demolition project selects a dumpster rental company that can supply three (3) 30 yard construction dumpster rentals that are switched out when the container becomes full. This total cost comes out to $1,200. If the contractor had gone with a dumpster rental company that only had 20 yard dumpsters available, the contractor would need five containers at a cost of roughly $300 a piece, or $1,500. The first scenario represents a 25% savings, even though the total container volume available for debris is the relatively the same in both instances.
The above example is hypothetical, but it accurately represents a very real concern that contractors should consider when renting construction site dumpsters. A bit of due diligence can pay off in the end, especially for industrial-sized construction or renovation projects.
What do construction and demolition dumpsters cost?
Express Roll Off dumpsters discloses their roll off rental costs. The following is the average dumpster rental prices for nationwide, local dumpster carriers:
Roll Off Dumpster Size &

National Average Cost
Express Roll Off has waste management dumpster rental prices that are much lower than those listed above. We are a licensed and insured local dumpster rental carrier that services all cities in Brevard County Florida, such as:
Palm Bay, Melbourne, Titusville, Merritt Island, Rockledge, Viera, Subtree, Cocoa, Cocoa Beach, Satellite Beach, Melbourne Beach, West Melbourne, Malabar, Sebastian, Indialantic, and more.
TIP: Ask Express's contractor's specials, or for volume discounts for renting multiple dumpsters (3 or more). Express Roll Off offers deals to contractors working on job sites within Brevard County, Florida who plan on renting multiple dumpsters on an ongoing-basis. Express's rates end up being cheaper than Waste Management dumpster rental prices and the majority of the other larger chains.
Generally it ends up being more cost-effective to rent the largest size dumpster available (30 cubic yard dumpster) for the type of debris your job site is generating. Selecting a larger dumpster size saves your crew from renting a second, third, etc. roll off, that's hundreds of dollars you'll save on rental costs. If you're disposing of dense or heavy materials, the 15 yard dumpster filled 3/4 of the way full is the size roll off Express utilizes. Heavy materials include: concrete, roofing shingles, dirt, rock, asphalt, and other heavy debris.
Estimating the amount of waste at job site
Construction job site dumpster rentals
Accurate waste estimations are critical in minimizing your disposal costs. FEMA came up with a formula to help estimate the debris generated during your demolition project.
Commercial Building Demolition:
Length x Width x Height x 0.33 / 27 = Cubic Yards of Debris Generated
Single-Family Home Demolition:
Length x Width x S (number of total stories) x 0.20 x VCM (vegetative cover multiplier) = Cubic Yards of Debris Generated
***(Vegetative cover multiplier = yard waste)***
One ton of construction and demolition debris (C&D) is equivalent to 2 cubic yards of waste.
Once you've calculated your debris estimate, it's much easier to access your roll-off dumpster needs. For industrial projects, the use of a 2 to 3 30 cubic yard roll off dumpsters, and arranging for frequent switch outs (or dump returns) is probably your best option.
When disposing of heavy debris, such as: shingles or concrete, a larger roll off is generally not used. This type of high-density, low-volume waste is disposed of in smaller-sized containers, such as 15 cubic yard dumpsters. In fact, Express Roll Off requires the use of smaller containers for heavy material disposal; since our roll off trucks have to work much harder to haul these heavier items.
Concrete tear out disposal
Imperative Factors Related to Construction Dumpster Rental
Proper planning of debris disposal strategies are critical to maintaining productivity at a construction or demolition job-site. As mentioned earlier, efficient planning can directly impact the total cost of debris disposal. In addition, a sound debris removal strategy is also beneficial in other manners.
Construction Dumpster Rentals from Express Roll Off Results…
1. IMPROVED JOB-SITE PRODUCTIVITY
Express Roll Off has a dream-team of dispatchers. We aim to make contractors look like "rock-stars". We understand job site delays can cost time and money. It's best to call 4 hours before you anticipate needing a dumpster switch out, dump return, drop off, or pick up. With proper planning, and communication (from your foreman to our team of dispatchers) delays relative to dumpster turn-around can be avoided.
2. ORGANIZED JOB SITES REDUCE SAFETY RISKS
When debris is immediately disposed of in dumpsters, instead of allowing waste to accumulate at a job site, you minimize safety risks. According to OSHA, the injury rate (including fatalities) in the construction industry is higher than the national average for all other occupations. Maintaining a clean, safe job site should be your top priority as a contractor.
3. FAMILIARIZE YOURSELF WITH THE JOB'S REQUIREMENTS
This means contractors should estimate the number of total dumpsters (or loads) needed to finish the job. This includes container swap-outs as part of the debris removal plan. Discuss your dumpster rental needs with Express ahead of time, so we can meet your company's demands before scheduling your initial dumpster-rental drop off. This will ensure Express Roll Off can accommodate your live-loading requirements or assist with other special circumstances. Call for your construction dumpster rental today

321-253-1080
Express is offering a promotion on construction dumpster rental (After President's Day Sale Promotion - from 2/20/18 - 3/3/18 - where contractors like you can save $25 off regular-priced 20 and 30 yard containers (for a 10 day rental duration).
*Please note this offer cannot be combined with other offers, and is subject to job-site location, availability, and intended contents being disposed of.*
Electing well-renowned national dumpster rental companies usually isn't your best option. They do not guarantee low prices, and cannot customize and provide responsive service. Choose Express Roll Off to handle your construction dumpster rental needs, we can accommodate the disposal needs of your job site. We will treat you as a top priority customer and save you time and money overall.
We hope our tips help to boost your construction crew's efficiency and lower your waste disposal costs during your next large construction or demolition project. We hope we have convinced you to rent construction dumpster rentals from Express Roll-Off, to reduce the costs of your construction and demolition job.
Express Roll Off of Melbourne, Florida

321-253-1080
rents dumpsters to paver companies, commercial developers, government renovators, demolition crews, property managers, commercial renovation crews, landscape companies, restoration crews, roofers, plumbers, HVAC companies, pool companies, remodelers, custom builders, realtors, investors, homeowners, and more.