What is a Dump Return?
What is a "Dump Return" or a Dumpster Return?
I need my Dumpster Dumped or Emptied and Brought Back to Me
A Dump Return or Dumpster Return is when you receive the same exact dumpster you rented brought back to you again (same size and container you rented in the first place). If you have more debris than the roll off container will hold during the first initial rental cycle and need the container brought back to your job site or residence after it is emptied at the landfill, this is considered a 'dump return'. All dumpster companies begin the billing cycle over again (as if you've initially rented a new dumpster) - even if you haven't used the full rental term (time allotted for the rental cycle).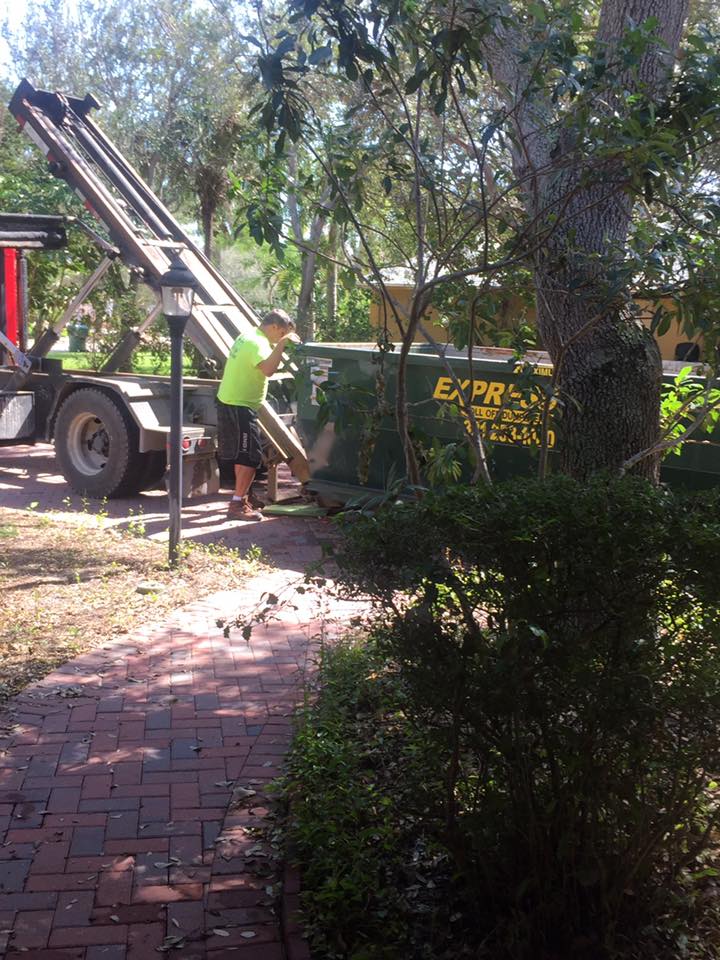 For example, you rent a 10 yard container and you actually have 15 cubic yards of C&D (construction or demolition debris), roofing shingles, household junk, or landscape debris to dispose of, and your project requires a second empty dumpster to be brought to the property you're working at; the billing cycle will begin again based on the cost of the original rental price. If you rented roll off # 10/2, and paid $200 for for a 14 day rental (a 10 cubic yard dumpster for a two week term), and filled it to the yellow fill line. A week later, you realize the roll off is full, yet you still have more contents in your household in need of disposal. Although you didn't use the full 14 days of the allowed rental term to do so, you need that dumpster emptied at the land fill and returned back to you. This scenario is considered a 'dump return'. Dump returns are charged as if you're renting another dumpster.
If you're wondering why we can't just include this in the original rental cycle, Express Roll Off Dumpsters of Brevard County will explain. Express Roll Off includes free drop off and pick up in all of their dumpster rental services. The amount of days allowable in the rental cycle have less of an impact on our pricing than the time and travel of hauling the roll off.
For instance, when Express delivers an empty roll off to you (the empty container is either coming from our yard or from the land fill). If one of our drivers is en route at the Sarno landfill, and your delivery is in Palm Bay, Florida 32905 travel time is roughly 18 minutes (or 13 miles). The overhead for the initial delivery involves: fuel (which is expensive, since it's diesel fuel), insurance (for the roll off truck, property, and liability), our driver's time (hourly wage, workman's compensation, etc.),equipment wear and tear (including repairs and maintenance), licensing, advertising, as well as other types of overhead. After the dumpster is delivered and filled, we haul the contents we picked up to the local landfill (usually the closest one to your job site, unless it contains pressure treated wood - this must be disposed of at the Cocoa Landfill). Therefore, the overhead involving the actual dumpster service (hauling aspect) is the primary factor when renting a dumpster from Express Roll Off, or any other dumpster company. Obviously if you try to 'camp on the can' (keep your roll off for a far longer amount of time than allowed), we must charge for the overage in days that you had the dumpster. However, this is not as costly to us as the transport portion of the services we offer.
How can you avoid Dump Returns?
If you're a contractor working on a larger scale project and have 100 cubic yards of debris to dispose of or more, a dump return simply cannot be avoided. In the contracting world, this is simply the nature of the beast, and the cost for such multiple disposals have already been factored in when the construction company bid on the project.
However, if you're a homeowner and trying to save money on dumpster rental, renting the smallest size container is usually not the cheapest way to go. Why? I'll do the math for you to demonstrate below.
You opt to rent a 10 cubic yard roll off for $200 for 14 days - money spent $200
You fill the 10 yard dumpster and need another empty one - money spent $200
You opt to rent a 15 cubic yard roll off for $225 for 14 days - money spent $225
All of your debris just fits, you call for a free pick up - money spent $ 0
In the above example you can easily see that avoiding a dump return or switch out will end up costing you far less money. By electing a larger sized dumpster than you originally planned on using

can potentially save you close to $200 ($175 to be exact).

Cheaper upfront pricing, when it comes to dumpster rental is not always the least expensive option. I can think of plenty of other things I would personally rather spend one-hundred and seventy-five dollars on, other than trash removal.
Express Roll Off of Melbourne Florida offers four convenient sizes of roll off dumpsters to rent:
10 yard, 15 yard, 20 yard, and 30 yard dumpsters. It is important to accurately access your disposal needs ahead of time and order the correct sized dumpster for your particular project. Heavy materials such as: Roofing shingles, fines (base aggregate material for pavers), dirt, fill, concrete, stone, etc. may require a dump return or switch out, since we only allow 15 yard dumpsters to be used (and filled 3/4 of the way full) when hauling dense materials like these.
Give Express a Call if you need assistance in selecting the right size dumpster for your commercial or residential project

321-253-1080

We're happy to assist you and help you save money on your next dumpster rental. Express Dumpsters services all of Brevard county, Florida, and offers same day service. We're licensed and insured, and cost less than rest of our competition in the area. Thank you for reading!