Dumpster Rental Prices - 5 Ways to Save
5 Ways to Save On Roll Off Dumpster Rental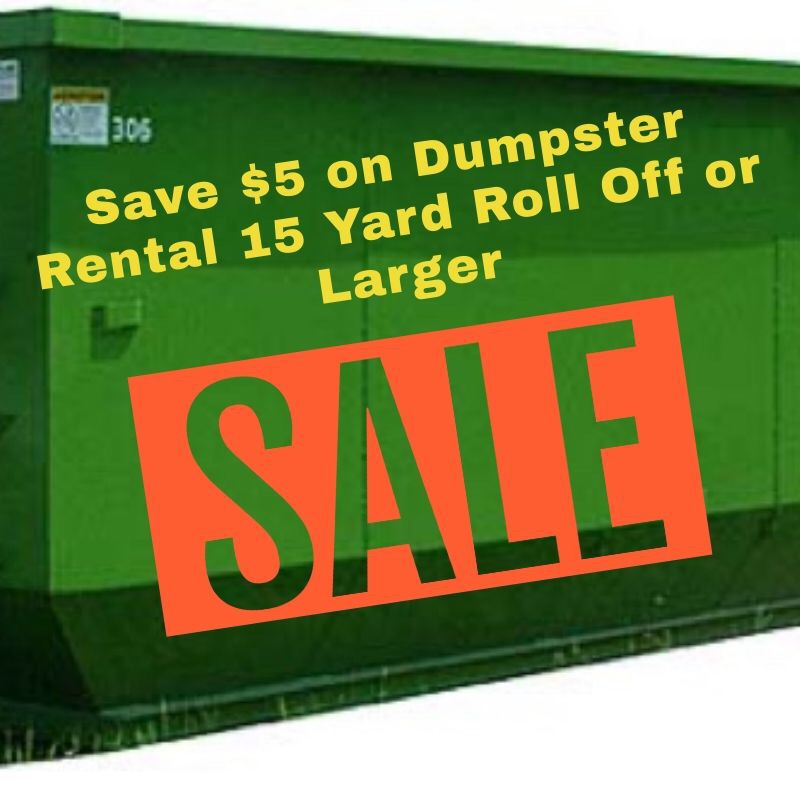 Saving on dumpster rental
Renting a roll off is a favorable and affordable method to get rid of massive amounts of junk, but do you want to pay more for service?
If you're new renting a roll off (even if you're not), Express Roll Off Dumpsters of Brevard County, Florida can help ensure you get the best price possible when renting a trash dumpster. Read on and learn our five easy tips to save on your dumpster rental.
1. Rent from local carriers (like Express) and avoid large haulers and waste brokers.
Express Roll Off is a local dumpster rental company in Melbourne, Florida.
Although it seems like a simple solution - to call the same company who picks up your residential trash to rent a dumpster —but that's not the most affordable idea.
Generally speaking, the larger well-known chains, like Waste Management and Republic Services, are usually more expensive than local carriers...and their customer service is less than personal. See our article about average dumpster rental prices in the area.
Another factor that increases your total rental cost is choosing a waste broker, or a middleman. Most often, these companies pose as local carriers (servicing a large area), when they hire out the hauling to a local dumpster company. Call Express Roll Off directly today to save on your trash dumpster rental

321-253-1080
This is how dumpster brokers operate:
The broker gets takes your call or responds to your lead through a website request for a roll off. (Beware of toll free numbers—this is usually a sign that you're dealing with a waste broker.)
The broker then subs the job out to legitimate local carriers to perform the actual work. The broker agrees to pay the local dumpster service, and arranges for the dumpster to be dropped off, and lastly they increase your rental by 50% or more for the cost of the rental. Usually you wind up paying $150 - $200 more for the same rental more by unknowingly using a broker than you would have if you rented directly from the local carrier.
Another thing to be aware of: If you're like most people, you use the search engines, Google or Bing to find 'dumpster rental', pay attention to the ads at the top and the bottom of the web page. The search results clearly display the 'Ad' symbol next to the pay per click ads. This is the main source the brokers utilize for lead generation.
At times Express runs pay per click campaigns on Google, yet we also show up on Google maps (places) and have a legitimate street address and 321 area code. If you see a carrier that services many states, many cities, even multiple counties in Florida, … be cautious. That friendly company could be courteously ripping you off.
2. Share the costs of renting a roll off with a neighbor and save.
Your neighbors probably have items they need to get rid of too. A simple visit and inquiry about when they can clean out their garage and share a roll off with you is usually all it takes to save half the cost on your rental.
Share one roll-off, or team up with a neighbor or two and rent multiple dumpsters.
If your neighbor has junk they would be interested in getting disposing of too, then consider going in on the rental price of the dumpster with them.
Let your neighbor know you're plans to rent a dumpster, and see if they'd be interested in splitting the cost of the rental. If they have just one or two items, like a few pieces of furniture, they could end up paying $50 of your rental; or if they have more to dispose of, you could split the cost down the middle and pay $113 each. Either way, this is a potential idea to save on rental cost and your neighbor benefits also!
If your neighborhood is having a community garage sale (let's face it there are always unwanted items left over after these sales) you could approach a few neighbors to go in on the cost of the rental ahead of time with you. A great way to do this is to approach your HOA for instance in advance and book a dumpster rental during or right after the neighborhood yard sale ends. The Home Owner's Association could call Express 1-2 days ahead of time and ask that the roll off be dropped off in the Clubhouse parking lot (so that multiple neighbors could utilize the dumpster at a central location).
3. Keep the Dumpster Load Clean - if you Can.
Clean-load the roll-off dumpster
A key factor in renting roll off dumpsters is the type of debris being disposed of.
If you're renting a dumpster for a home improvement project and you only plan on disposing of construction debris, you usually will not incur any additional dump fees at all (unless the project takes place at a commercial or government location, or is considered 'new construction'. A mixed load, however can get very costly with dump fees. Here in Brevard County, the local landfills recycle all vegetative waste, therefore dumping even small amounts of landscape debris in with your junk or construction load costs extra, since the men at the dump are required to separate the load. Mixed loads cost $41/ton and can easily be avoided by bringing tree branches, sticks, leaves, mulch, sod, palm fronds, and other vegetative matter to the curb. Your local residential garbage service will collect these items with a grapple truck (so do not bag the debris). This way you can avoid costly mixed load fees at the dump. If all you are disposing of is landscape material (this does not include dirt, stone, or pressure treated wood), then you can place the entire clean-load into a dumpster.
4. Donate (or sell) unwanted items first. Dump them secondly.
Have a Yard Sale and Advertise it on Craigslist
Before you rent a roll off, consider having a yard sale or donate to local charities. Bulky items, such as furniture or rugs, will take up a lot of space in the dumpster. This is a great opportunity to make come extra money to off set the cost of renting the roll off (or have a tax write off).
A few great places to consider selling, trading, or donating your gently used items include:
Facebook Marketplace (store icon to the left of the notifications icon)
5. Go online to find current deals and promotions.
Express Roll Off Dumpsters for example is offering $5 off rentals on dumpsters 15 yards or larger. Express offers 10, 15, 20, and 30 yard dumpsters. Express services all of Brevard County, Florida, which includes cities such as: Palm Bay, Melbourne, Titusville, Merritt Island, Viera, Cocoa, Rockledge, Cocoa Beach, Malabar, Indialantic, and more. We often post our sales and promotions on social media, like Facebook, Twitter, or Instagram. We also offer exclusive discounts to Brevard county realtors, and Melbourne Chamber of Commerce Members. Sometimes Express even offers special discounts and deals through the local phones books like the Yellow Pages and the Real Yellow Pages. Be sure you select the correct sized dumpster for your project. Renting too small of a dumpster from the start can wind up costing you double from the get-go. Call Express Roll Off Dumpsters and save $5 off your next rental of 15 cubic yard dumpsters or larger, call

321-253-1080

.