Junk Removal Made Easy
Brevard Dumpster
Blogs
Hits: 838

Is your significant other or sweetheart tired of taking a gander at an unattractive mess?
We can assist with our wide variety of dumpster sizes :
10 yard is for little projects and works great if you're in a small space. A 15 yard dumpster is our most rented-size with property holders. It fits close the three times the garbage of a bagster and (which would cost $500 for three of them and three pick ups).
Spare almost 50% of this sum by leasing a 15 yard dumpster from us.
In case you're considering, "goodness, that will be a ton of work however. What's more, I'll need to lift my trash over the side of the dumpster!" Think once more, our roll off dumpster doors open for simple loading.
10 yard dumpster dimensions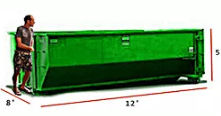 15 yard dumpster dimensions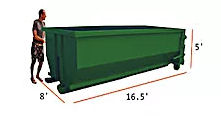 So simple to fill, even a lady like myself is capable of loading this waste container. I could get my wheel barrel of yard garbage directly into the dumpster and arrange the vegetative trash I filled it with. I compressed the leaves and branches down, keeping in mind the end goal - to make more space in the dumpster (without going over the fill line). I had a significant landscape cleanup to do, and the yard looks awesome now-on account of Express Roll Off Dumpsters.
* Notice my dumpster contains only yard waste. The nearby dump charges $41/ton on the off chance that you blend vegetative waste (leaves, branches, palm fronds, and additionally whatever other vegetation) with materials like: construction waste, trash, garbage, pressure treated wood, and so on. Conclusion, in the event that you anticipate doing clean out, remodel, DIY venture, and so forth. It is best to convey any yard trash you have out to the edge of the street, and have WM discard it (this is provided into your local property assessments at any rate).
Note: Sod, rocks and soil are not considered vegetative debris*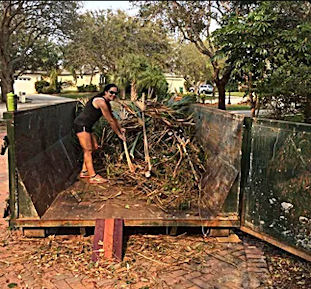 On the off chance that all you need to discard of yard waste (like me-pictured above), and you have a considerable measure of it - place it in one of our dumpsters. The one I utilized was a 15 Yard dumpster. If your HOA is strict or you would rather avoid your yard debris sitting curbside for a considerable length of time (until a hook truck collects it ) or you have a considerable measure of yard trash to discard of - you may wish to lease a dumpster (for these purposes only).
Spare yourself aches and pains of propelling and stacking overwhelming burdensome refuse over the high sides of high roll off dumpsters. Express Roll Off Dumpsters has steel bins with low sides and hinged doors that swing open; making them easy to fill. With hurricane season in full swing, a garage or yard cleanup would in all probability be very valued property preparation.
Before you know it ... your living arrangement will resemble this!
The majority of us would rather dwell in a clean, junk free, organized home. You've probably heard your significant other say, "we simply have excessive amount of stuff! We have to purge the (carport, shed, yard, etc.) someday..." He or she might not have any desire to continue advising you that they communicated this, so make so unexpectedly take action this year, and expel all junk, unused things, and rubbish around your home or yard. You will be thankful that you did.
When calling or leasing a dumpster from us on the web, we should know a couple of things first:
321-253-1080 Contact Express Roll Off Dumpsters By telephone
321-591-9559 Text Friendly Number
Which city you are situated in (we provide waste container services to all of Brevard County Florida).
Which size dumpster you will require. If you need assistance deciding your dumpster size needed, click here.
When you'll require the rental (drop off date).
What you will be disposing of in the dumpster.
The reason we have to recognize what you anticipate putting in the dumpster is on the grounds that the County dump has guidelines and rules (including up-charges) contingent upon what you're dumping. Most times these extra charges don't apply to residential renters, (usually only contractors working on commercial projects) yet it is best to call and clarify if you may be subject to any additional charges.
Our agreeable dispatch staff will coordinate your dumpster rental with you, when you call or request one on the web. We recommend reserving your waste dumpster 1-2 days prior to desired delivery (the same thing applies when you require dumpster pick up). This increases the probability that you will have it the trash bin when you require it, and have it removed when you're through. We are known to offer Express same day service, as per our name, but due to unforeseen high-volume rental times (post hurricane Matthew for example) - we unfortunately cannot always guarantee this.
Brevard County Homeowners - Take pride ownership - once again -and Be Debris Free! 321-253-1080
What's more, my complimentary present to you for taking the time to read my extremely enlightening article (take note of the mockery here - lol) is a $20 coupon towards your rental of a 15 yard dumpster or bigger. We have 10, 15, 20, and 30 yard dumpsters accessible.
I have 13 reasons why Express Roll Off is the only Dumpster Service for Brevard County Residents to Consider:
Express Roll Off Dumpster Rental is Licensed and Insured
Our Safe, Experienced Fleet of Drivers (all family men) have Over 70 Years CDLA Driving Experience
Our Consistent 5 Star Reviews on Google, Yellow Pages, Hometown Dumpster Rental, FaceBook , etc.
Quick Turn Around Time and Prices from $14.21/day (based on a two week rental term).
Straightforward Pricing - We Offer upfront pricing and Reveal Any Additional Charges
Free Drop Off and Delivery Are Included in Our Prices
Family Owned/Veteran Owned and Operated Local Business - Get the service you deserve at prices that aren't inflated.
We Believe In Recycling - We compost landscape debris and recycle metals & concrete.
We Believe in Giving Back to The Community by donating monetary contributions or services to worthy causes such as:
American Cancer Society's Relay For Life, Wounded Warrior Project, National Multiple Sclerosis Society, Fraternal Order of Police
We Provide Excellent Service - we're there when you expect us and we treat our customers and their property how we wish to be treated
Se Habla Español
We have a 14 Day rental term - 40 % longer than the competition, because "life happens" - they charge the same for 5 - 10 days
We have advantageous hours to serve you : M-F 7:00 AM - 7:30 PM and Saturday 9AM - 5 PM
Despite everything, if you're not persuaded you'll be getting the most prices and service from us, check out the awards we won for best in trash containers and garbage removal in Melbourne for the last three consecutive years!
So what's the delay? Call us or request a free dumpster quote online today 321-253-1080 And say goodbye to clutter and hello to hurricane preparedness!