Hurricane Irma Brevard County Florida
Brevard Dumpster
Blogs
Hits: 821
Hurricane Irma's Impact On Brevard County Florida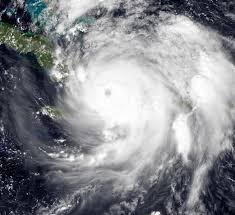 Hurricane Irma hit Brevard County Florida late Sunday night and continue to batter the Space Coast until mid-afternoon Monday, September 11, 2017. Hurricane force winds were measured by the national weather center with gusts reaching ninety-four miles per hour.
This hurricane caused more damage than Hurricane Matthew, which struck Brevard almost a year ago in October. Our area received more than twice the rainfall we did from Matthew and over eighty percent of the county was left without power. Our county suffered some flooding, debris was scattered everywhere, and trees were down. Areas in Palm Bay, Mims and Rockledge reported tornadoes.
The National Guard was handing out bottles of water on Wednesday in various locations. There is a crisis cleanup hotline Residents can call if you're in need of help with cleanup 800–451–1954. Relief agencies associated with assisting Brevard residents may possibly offer free services such as: roof tarping, tree cutting, debris cleanup and muck removal.
Hurricane Maria is out in the Caribbean as well
Although it's too soon to tell if hurricane Maria is going to impact Florida or not, it is still better to be prepared. Part of this preparedness includes cleaning up from the last storm. Here at Express Roll Off we can help both contractors and homeowners do so. We are at the peak of hurricane season, but it's not over. Thankfully our county is better off than the Florida keys, Miami, St. Thomas, and other locations that were affected worse than we were. Before any of these other storms have a possibility of approaching and strengthening, we need to focus on the task at hand, which is removing the existing debris. If you're worried about renting a dumpster because another storm may blow waste around your yard, don't let that hinder your clean up plans. Express Roll Off traveled around the county September 6th, 7th, and 8th, just days before the storm and picked up dumpsters from nervous homeowners's properties. Some of the roll off renters including contractors were not even done using their dumpster, but were concerned about debris blowing around during the hurricane.
If you rent a dumpster from express or another carrier and they for some reason cannot come pick up the container before I tropical storm or hurricane is expected, it is best to secure a tarp over top of the bin. The steel containers weigh so much they are not going to move during hurricane force winds. However, it is best to use a bungee and a tarp and make sure the open top is material is secured. This way when the storm is over you will still have a container and you can use it at your leisure, instead of waiting for another dumpster to be delivered to your property. Hopefully we Brevard County residents will not have to worry about any more tropical threats this season.
Dumping Tips:
Remember when you do sort debris, don't use plastic garbage bags for vegetative material.

Always be sure that you do not mix landscape debris with Construction debris (or Junk).

Vegetative debris mixed with construction material is $41/ton at the local dump - which is passed along to the customer

Do Not place leaves in plastic bags

keep sewer grates clear for drainage

place vegetative material curbside if you do not rent a dumpster or grapple service for these items only

cut large tree branches in sections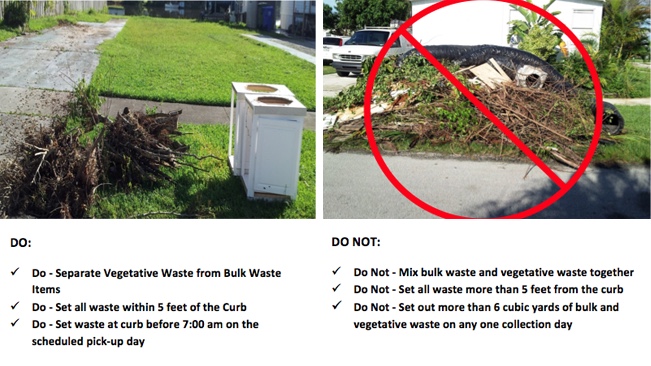 Feel confident that Express Roll Off does not believe in price gauging. We do our best to charge the cheapest prices to rent roll off dumpsters to both homeowners and contractors alike. If you need help deciding on what size dumpster you will need. Call us or text us at 321-591-9559 or get a free quote.