Concrete Dumpster Rental at Express Roll Off - Palm Bay, Melbourne, Merritt Island & All of Brevard County Florida
Concrete Dumpster Rental Brevard County Fl is Less at Express Roll-Off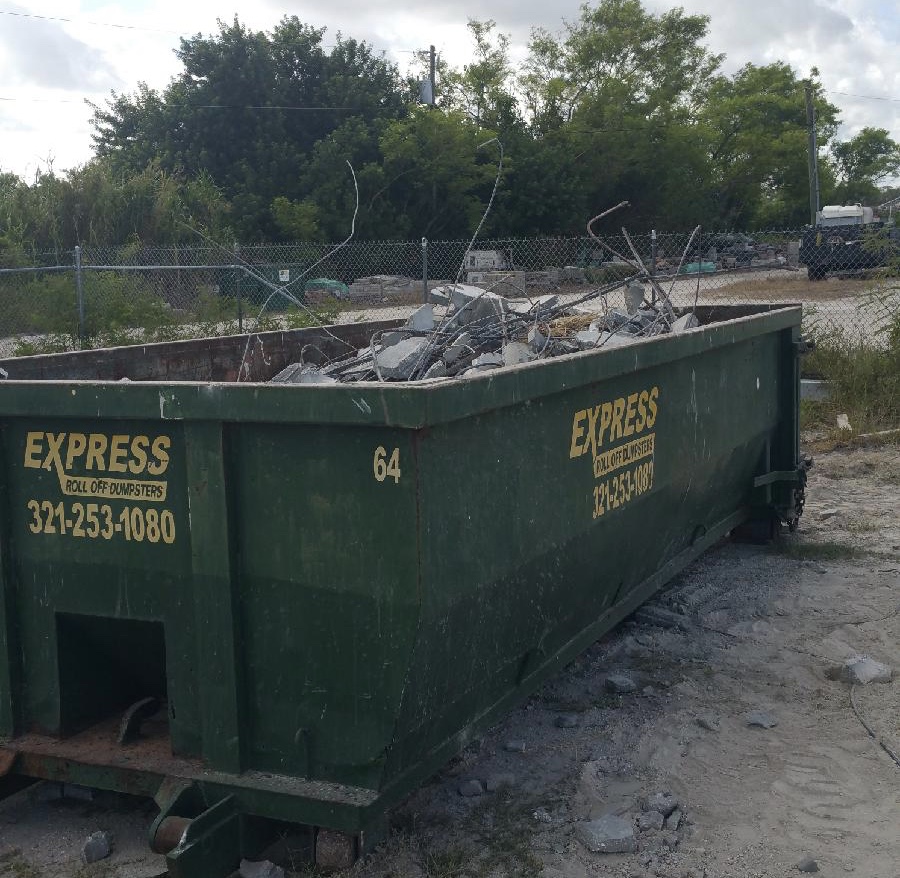 Concrete roll off dumpster rental is the second most popular type of rental Express Roll Off offers to homeowners and contractors in Brevard county Florida. Concrete dumpsters are used for masonry and asphalt projects, such as: removing driveways, patios, pool decks, walkways, side walks, pools, foundation and footings. If you're in need of a dumpster for concrete disposal in Palm Bay, Melbourne, Merritt Island, Rockledge, Cocoa, or any city located within Brevard county, give Express Roll Off a call

321-253-1080

.
Renting a concrete roll off dumpster is similar to renting other bins, but there are several factors that affect a concrete dumpster's cost. These factors include: the size of the container, the weight of the concrete, where you're located, and the disposal fees in your area all play important roles, when receiving a quote.
Before making an educated decision on your roll off rental, here are a few things to consider when renting a dumpster for concrete...
Concrete takes up less space, but is extremely dense (heavy).
A 15 yard dumpster (filled 3/4 full) is typically big enough for disposing of debris from a concrete slab, driveway, or patio, but it's always best to double check with our dispatch experts at Express Roll Off. Concrete is a low volume debris, but it weighs a lot (which is why the 15 yard dumpster should only be filled 3/4 full).
When calling our dispatch team at Express, be sure to give us as many details as you possibly can about the job you're doing.

321-253-1080

This will best assist them in providing you or your company with an accurate estimate, and will help ensure you choose the best dumpster based on the amount of concrete you need removed.
Keep the concrete load clean.
In order to avoid additional fees, aim to avoid disposing anything other than concrete in your dumpster. We refer to this as "clean loading," which allows for the concrete to be recycled easily. That way, it can be reused as aggregate or base material for roads and other surfaces.
Dumpster Rental Money Savings Tip: By clean-loading the roll off container and recycling the concrete instead of dumping it at the landfill, you'll not only help save the environment, but you'll also save tons in disposal fees!
Hauling concrete is extremely heavy!
It may come as no surprise that concrete is tremendously heavy, but not many people appreciate just how heavy it is. The weight of heavy materials such as concrete, dirt, and asphault takes quite a toll on our equipment (the hydraulics associated with our roll off trailers is extremely expensive to repair/replace). Therefore, it's imperative to understand exactly how much your concrete load will potentially weigh, so that you don't overfill your dumpster and wind up paying hefty overage fees, or wind up damaging our equipment.
1 cubic yard of concrete weighs approximatetly 4,000 pounds (or 2 tons).
The majority of concrete surfaces, such as: driveways, slabs, and concrete patios, are poured at roughly 4 inches thick, so we recommend using the measurement below when calculating your disposal estimate.
Consider these examples in order to get a better estimate of how much your concrete disposal project's debris weight:
• Typical Single-car driveway: measuring 10 feet wide x 40 feet long x 4 inches deep = 5 cubic yards of concrete debris x 1 ton = 5 tons total
• Typical Double-car driveway: measuring 20 feet wide x 40 feet long x 4 inches deep = 10 cubic yards of concrete debris x 1 ton = 10 tons total
• Typical Patio: measuring 10 feet wide x 15 feet long x 4 inches deep = 2 cubic yards of debris x 1 ton = 2 tons total
• Typical Pathway or sidewalk: Measures 15 feet long x 2 feet wide x 4 inches deep= 0.4 cubic yards of debris x 1 ton = 0.4 tons total
Side-note: Filling up a 15 yard dumpster halfway full with concrete, will weigh approximately 30,375 pounds, or 15.1875 tons. In general one yard of concrete weighs 4050 lbs. or 1 cubic yard = 27 cubic feet; 4050 lbs./ 27 cubic ft. = 150 lbs. per cubic feet.
Caution: Overfilling the roll off container will not only cost you in overage and unloading fees, but it also risks damaging our company's equipment (which will cost you an arm and a leg) this also increases the risks to damaging your property (or your job site's).
The container in the photo above is not only overloaded, but also contains rebar (steel reinforcing rod found in concrete). A small amount of rebar is acceptable, but sticking out of the roll off dumpster (as conveyed in the photo above) is not, since we are required by DOT (Department of Transportation) law to tarp and secure our loads for safe transport. A clean load (concrete only) can be taken to places like Space Coast Crushers or Space Coast recycling, where it can be ground down and recycled for
Wet concrete is prohibited. If you are a contractor or homeowner working with wet concrete, please allow the concrete to dry first, before disposing of it in our dumpsters. Wet concrete not only ruins our equipment, but is also difficult to shake loose from the bottom of our containers once dry. If you knowingly decide to dispose of wet concrete in our containers, you will be subject to monetary damages to our equipment.
Since the Cocoa dump is the only local landfill that excepts food trash and pressure treated wood, we charge $25 extra for disposal of these items (in concrete loads and other c&d loads - construction and demolition loads). Often the time and travel to the Cocoa dump take our drivers out of our service area; hence the additional charge.
Customers often ask if they will be charged for tonnage or disposal fees in addition to their rental. In most cases when renting at Express this is not the case unless any of the following scenarios below apply to you or your job:
You're working on a commercial, government, or new construction job site - then $23.66 per ton will apply (the local landfill charges our dump account this actual amount and we pass it along to the customer).

You have a mixed load (landscape or vegetative debris mixed in with your concrete load) - this includes- tree branches, sod, leaves, mulch, plan fronds, sticks, vines, plants, etc. mixed into your load. The landfill recycles vegetative debris into free mulch; which is why they charge $41/ton to separate such loads. These fees are passed along to the customer.

You are disposing of food trash and or pressure treated wood mixed into your concrete load - $25/ flat fee additional is charged for travel to Cocoa Dump.

Other charges to one aware of (although they can be avoided) are: Relocation of the dumpster, overfilling the dumpster, and blocked dumpster fees. Express Roll Off discloses all of our policies and procedures to our customers in our dumpster rental agreement. Reading this short document will take you less than two minutes and will potentially save you money.
Express Roll Off Dumpsters rental prices on concrete dumpsters are cheaper than most in Brevard County and $100 cheaper for a larger dumpster with more allowable weight (15 yard vs. 10 yard than that of 30 areas surveyed nationwide). Call or fill out our online web form to receive your no obligation concrete dumpster rental quote from Express Roll-Off today! Our helpful staff is ready to assist you with your concrete dumpster rental: call

321-253-1080