Dumpster Rental Prices in Brevard County Florida
Express Roll Off Dumpsters Lowers Their Prices on Renting Roll Offs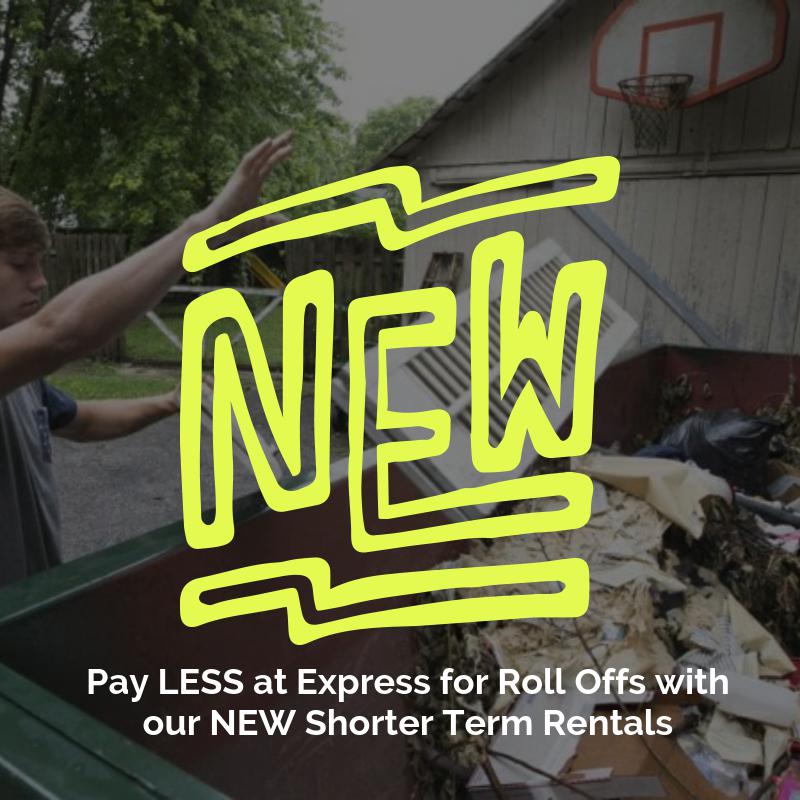 Gas prices have gone up 30%. Why would Express Roll Off Dumpsters lower their prices on dumpster rental? Simple, Express is introducing an alternative term to the their typical 2 week rental cycle. We have been asked by many (especially homeowners) if we offer a shorter term on our roll off rentals, …. and now - we do!
We still offer the fourteen day rental on all of our dumpsters (10, 15, 20, and 30 yard roll-offs). However, we're introducing a shorter duration option on a 10 day rental for a savings of $20 - $25 less per rental. This gives you the option as the consumer whether you wish to choose a two week term (dumpster rental prices start at $14.28/day, based on a two-week rental term, or you can opt for the 10 day rental at slightly more per day (with less overall cost).
This is great news for our customers at Express Roll-Off, because they now can rent a 15 yard dumpster for instance at the same price they would have paid for a 10 yard roll off in the past (they just have it for less time). For the wise, budget-conscious consumer, this is great news. We realize that not all of our customers need the rolloff for almost half a month and wanted to offer options to those looking for a short-term dumpster rental. If you're considering renting a dumpster here are a few tips on how to get started & save the most money:
1. Plan ahead - determine when you'll be doing your clean out or
home improvement project and call a few days out to insure you will have waste disposal handy for your desired dates. *** But don't call too far in advance - most dumpster rental companies cannot hold your rental *** With the high volume most of us dumpster companies are experiencing after two years of hurricanes in a row, 24-48 hours advanced notice for delivery is ideal.
2. Calculate a rough estimate based on the amount of debris you plan on putting into the dumpster. Many people tend to underestimate the amount of waste they are disposing of, and wind up selecting the wrong size. If you're unsure which size roll off you should rent, it's far better economically to opt for the next size up. Express strictly only rents 15 yard dumpsters 3/4 full for heavy materials such as: concrete, dirt, roofing shingles, rocks, and fines (base material for pavers and hardscaping). The reason we do this for heavy hauls is because loads such as this take quite a toll on our equipment (hydraulics) and the driver cannot safely haul more than this amount, otherwise his tires would be off the ground.
3. Have all of your information ready when you call Express for a free dumpster rental quote. Information such as : City the roll off will be delivered, the date and time frame you will need the dumpster, where you would like it placed (driveway, lawn, etc.), which size dumpster you will need, the contents you plan on putting into it, the best number to reach you at, make sure you call to arrange for pick up 1-2 days ahead of time when you anticipate you'll be done with the rental, etc.
Some other helpful tips when renting a dumpster that can save you money besides a shorter duration are: keeping a clean load, loading the roll off evenly to maximize on space, paying by check or cash to eliminate merchant fees, not overloading the roll off, and renting the correct size for your waste disposal needs. Take a few minutes and read over Express Roll Off's dumpster rental agreement to ensure you're educated on the ins and outs of renting a rolloff. This will ensure your rental will cost less and run smooth. Thank you for reading and deciding to rent dumpsters from Express Roll Off Dumpsters of Brevard County Florida. Call Express today to recieve our new lower priced dumpster rentals 321-253-1080