Hurricane Season Dumpster Special For Brevard County Florida
Express Roll Off Hurricane Season Dumpster Rental Savings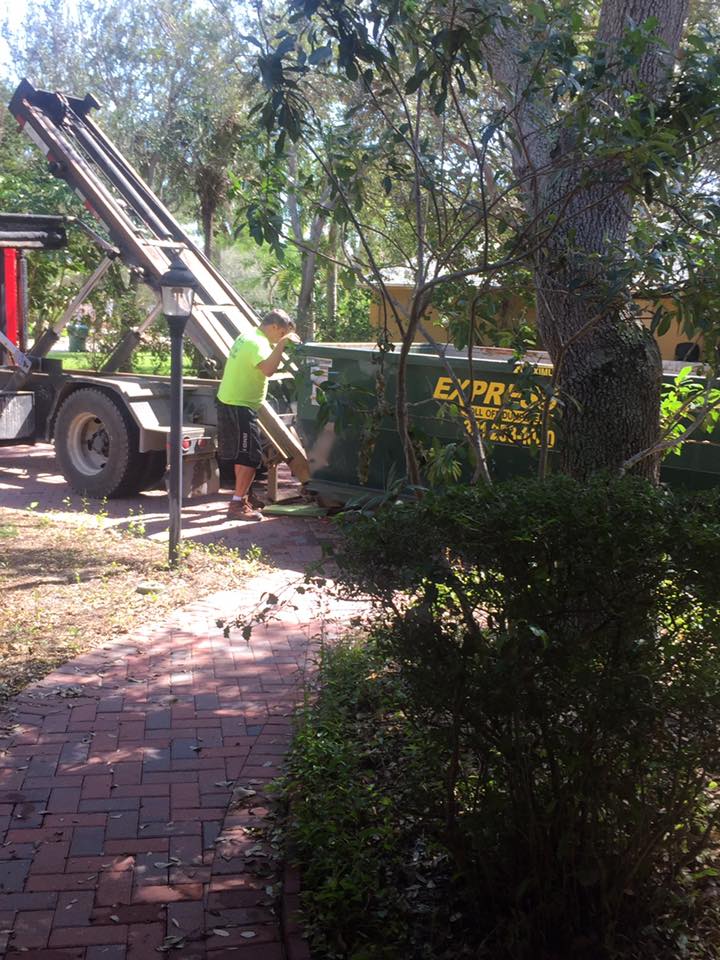 Last October, Brevard county residents were not expecting a storm, let alone a hurricane Matthew, so late in the storm season. Thankfully Brevard didn't suffer a direct hit from Matthew. As a result, Brevard county did suffer the amount of damage to their county the media anticipated. Some cities within the county got hit harder than others. Many experienced damage to: docks, roofs, fences, and trees. Thankfully, these items can be repaired, removed, or replaced. However, a human life cannot be replaced.
Last year Express Roll Off Dumpsters made every effort to service both home owners and contractors alike, after the disaster. We resumed business as soon as the local dump reopened to the public on Saturday, October 10th. In addition, we even worked diligently on Sunday, October 11th attempting to catch up with the unusually high volume dumpster requests we experienced.
Our prices and service standards have and will remain the same after any storm as they were before any disaster. The owner and operator of Express Roll Off is a rare native of Brevard County. He is also a veteran and family man. Price gouging or taking advantage of others in the community goes against everything Express Roll Off Dumpsters stands for.
Express Hauling regularly participates in charities either by donating their services or money to three different county-wide annual American Cancer Society Relays for Life, they have donated service to the Brevard Sherriff's Department, as they have provided donations to the MS walk in Viera. Lower rental prices have also been given to non-profit organizations. It is Express Roll Off's goal to give back to such a supportive community.
Express Roll Off Dumpsters regularly runs promotions and specials to save its Brevard County residents money as well. Fair pricing techniques have been carefully implemented by Express so their customers are aware of all charges related to renting a dumpster upfront, and are not surprised later with undisclosed add-on charges. Currently Express is running a special on Melbourne chamber of commerce's web site and on the space coast realtor's site. Save $20 on the rental of a 15 yard dumpster or larger for a two week term. If either special is mentioned on the telephone 321-253-1080 or on their web form, clients will immediately save twenty dollars.
Express Roll Off is one of the only local dumpster rental services in Brevard that posts their prices online. They believe customers should know upfront what their service costs without any surprises and/or hidden charges. They also post the dimensions of our dumpsters, rental terms, and even offer a convenient online check out option for the convenience of their customers.
After hurricanes, or tropical storms, the lines at the local dump are very long, due to the tremendous amount of debris left behind from any disaster's wake. Please be patient with Express if your call is not answered within the first five minutes of calling, due to post-storm high call volumes. They are making every attempt to give you the timely service and a quick rental turn around their clients deserve.
If you are a client waiting to hear back on an insurance claim Express can provide you with receipts and or written quotes for reimbursement. Feel free to call their accounting department for expedited service at 321-795-2352 Carrie, their office manager will be happy to assist you.
Express is licensed and insured and their team of drivers has been employed with them for years. Express treats their customers and drivers the way we wish to be treated, which is why they have been awarded best rubbish and garbage removal & container company in Melbourne for three years in a row.
Express Roll Off Dumpsters services all cities located within Brevard County, Florida
Their Dumpsters Sizes Range From 10 yard - 30 yards.
They Service: Palm Bay, Melbourne, Merritt Island, Titusville, Cocoa, Viera, Rocklege, Port Saint John, Cocoa Beach, Indialantic, Melbourne Beach, Suntree, Lake Washington, Grant, Malabar, and Parts of Sebastian (within Brevard County, fl)