Which Is A Better Deal The Bagster or a Dumpster?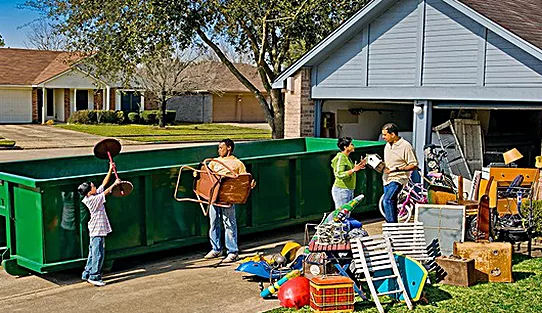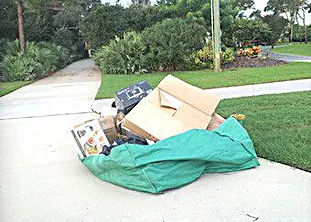 Dumpster Rental or the Bagster, Which is Better?
This question is often posed by homeowners in need of debris removal. Let's do a thorough comparison on the details of each option- both Bagster and steel dumpster rentals. Let's analyze both the Bagster and traditional roll off dumpsters by : cost, collection, ease of use, and durability.
How Much Does The Bagster Cost?Many people are under the assumption that pick up service with the gagster is FREE. It is not, it depends on your location (zip code). Online retailers such as Amazon and Ebay carry the Bagster, so do local home improvement stores. Generally the price is around $29 retail to purchase the Bagster. In addition, a pick up fee is imposed - depending on which municipality you are located in. A Collection fee of $149 for example was quoted for zip code 32903. There is another additional fee of $8, if you schedule pick up online. The commercial on television and the ads online, and the displays in the big box stores make this canvas bag dumpster sound like a no-brainer for a residential homeowner. WM Bagster also does give a $30 discount (savings probably varies by area) if additional Bagsters are used. However, the second one must be picked up at the same time and at the same address as the first Bagster. The Bagster holds 3 cubic yards of debris. Price summary: Cost of Canvas Bagster retail item = $29. + $149. Collection Fee = $178. The Bagster costs $178/3 cubic yards = $59.33/cu yd.
How Much Does The Smallest Roll Off Dumpster Cost?
Express Roll Off's smallest size steel dumpster holds 10 cubic yards of debris (10 yard dumpster size). They offer free delivery and pick up of the dumpster, and it is placed in a location convenient to the homeowner. The 10 yard dumpster costs $199 to rent for 14 days. Cost of a steel dumpster rental $199/10 cubic yards= $19.99/cu yd. The steel dumpster fits more than three times the debris and ends up costing $21 more.
Collection Of Bagster
WM is open five days per week and being the large corporate entity they are. They do tend to have a reputation for taking their time hauling away any type of debris you have to schedule pick up for (such as yard debris). Therefore, it's hard to imagine that this add-on service would be any different. Nation-wide chains are so large, the consumer may be put on hold or transferred from one department to the next and/or have service scheduled for a day that is not convenient. For an informational video on scheduling collection of the bagster click here.
Collection Of Roll Off Dumpster
Express Roll Off Dumpsters recommends calling 1-2 days before the customer needs the dumpster picked up. That way clients are not stuck looking at their trash. Express is open on Saturdays from 9am - 5pm-unlike Waste Management. To schedule your roll off dumpster rental today, call Express at 321-253-1080
Bagster's Ease Of Use
The Bagster, once filled will need to go as close to the renter's cub as possible, in order for WM's grapple truck to collect the debris. The hook truck lifts the canvas bag into the air by the yellow lifting straps. Therefore, location of the desired waste to be disposed of is important. If a resident's driveway is average length, but debris is in the attic, backyard, etc., the walk to the curb or end of the driveway will be difficult with a full Bagster.
Trash Dumpsters Ease Of Use
Roll Off Dumpsters are traditionally placed in the driveway near the garage, making it relatively easy to fill the roll off container. The doors open by the hinge allowing the renter to situate debris easily. The bin remains situated where it was dropped off until the customer calls and schedules pickup. This makes it easy to do garage clean outs, fence tear downs, bathroom remodels, etc. Traditional dumpsters, like Express Roll Off dumpsters are fabricated in steel and come in various sizes to suit customers needs. If uncertain about the dumpster size you necessary for a particular project click here.
Durability of Bagster
A photo was taken by an Express Roll Off customer who attempted to use the Bagster to dispose of waste. He ended up throwing the Bagster in a dumpster. The "disposable dumpster" concept sounds like a good idea, but is is constructed of reinforced plastic over a coated canvas bag. The time-constrained customer found the Bagster did not fit much. He ended up renting a dumpster from Express Roll Off, in order to finish his project (a shed tear down). It seems hard to imagine this un-sturdy bag would later be picked up by a grapple-hook-lift truck without making a mess curb side or on a consumer's driveway (in picture shown at top of article).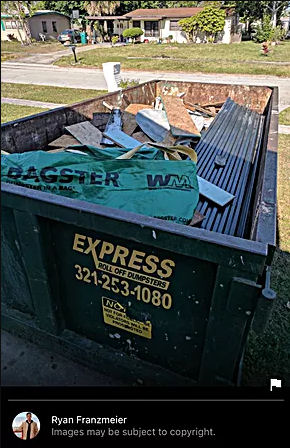 Durability of Dumpsters
Since Roll Off Dumpsters are fabricated in steel they are quite durable. DOT regulations require that the open tops of the roll off containers be tarped (to ensure safe transport). It is important that customers do not overfill the dumpster into a mound and that the contents are evenly distributed.
In conclusion, many do not realize they need assistance with rubbish removal until they are knee deep into a project. Most homeowners have never rented a roll off dumpster before and the process may seem intimidating. This article is intended to give consumers a comparison of their options with using either the canvas dumpster a traditional dumpster. The staff at larger chains like WM may not walk customers through the entire process (policies, prices, etc.) yet smaller local hauling businesses like Express can afford to take the time to personalize their service.
Ultimately, when a wide array of factors are taken into consideration: price, durability, ease of use, and service standards- steel residential dumpsters win in the end. Roll off containers will fit more debris, won't leave a mess behind, and will be dropped off and picked in a timely fashion, and in most instances, will cost the consumer less. In the end it's all about what the consumer needs.