How To Rent a Roll Off - Dumpster Rental 101
Dumpster Rental 101 - Tips on Renting a Roll Off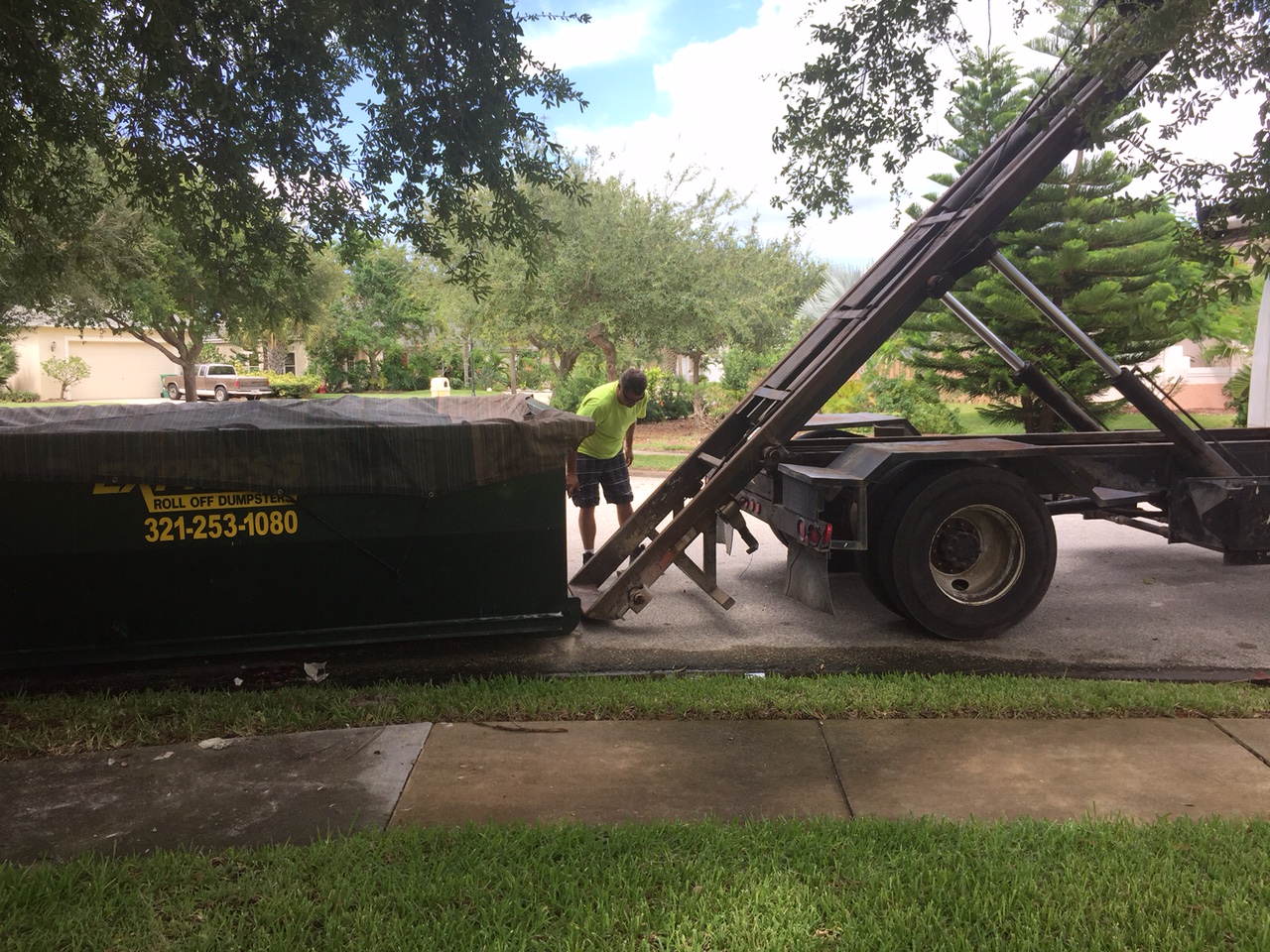 Maybe you're like the majority of us, and you've never had to rent a roll off dumpster, until now. Before you embark on the unchartered territory of the dumpster rental process in Brevard County, Florida, I urge you to read this article. You'll be glad you did. This 5 minute read can save you hundreds of dollars and more than that, …. spare you a lot of aggravation. Everything you need to know about renting a dumpster in Brevard County, Florida can be found here.
Below are the following questions most carriers will ask you. Be sure to have this information ready when you to reserve your dumpster rental from Express Roll Off Dumpsters.
1. Which city the property or job site you need the dumpster is located in (also the street address if you go forward with renting).
2. Generally what you intend on disposing of (contents you plan on putting into the container).
3. The date and time-frame you will need the roll off delivered.
There is other information you may also need; such as: where you'll like the dumpster placed, what the best point of contact (phone number to reach you at), which size roll off you presume you'll need (this can be determined over the phone if you're uncertain), your preferred method of payment (cash, checks, and credit cards are accepted and due upon delivery of the bin when renting dumpsters with Express Roll-Off).
Which sized dumpster should you rent? If you have an average sized driveway/property/or job site - most of the time a 15 yard dumpster is the ideal size to rent. This is our most popular sized rental for both homeowners and contractors alike. If you opt to rent our smallest size we offer (the 10 yard) you may be saving $2/day on your rental upfront (or $25). However, most people underestimate the amount of garbage they truly are disposing of and find themselves in need of a second container. Avoid paying for two separate dumpster rentals and rent the correct size form the start. You can save close to hundreds of dollars up front, by merely electing the right sized roll off for your project. If you need help determining which size you'll need, feel free to call our sales staff at 321-253-1080 and they'll be happy to assist you.
Since each municipality has its own rules governed by the local landfills of what can and cannot be dumped, we'll briefly discuss Brevard County's local landfill rules and up-charges. Once of the most popular questions we get asked at Express Roll Off Dumpsters is; "Are there any additional charges besides the cost of the rental?"
Additional Charges Involved with Renting Dumpsters and How to Avoid Them :
What you put into the trash dumpster matters. Remember these simple rules -and most likely you'll only have to pay the low, flat, roll-off rental rate.
Do you have a job or project at a commercial or government building or are you building a brand new structure (new construction)?
All new construction jobs - where a new structure is being built (whether it is commercial or residential) are charged a disposal rate of $23.66/ton. This is the local landfill's rate (charged by the Sarno or Cocoa dump) to our dump account. We then pass these mandatory charges onto you (the contractor or customer). We at Express Roll Off only charge the actual amount per ton being disposed of (we do not profit on this).
Similarly, 'Commercial Renovation, Government Projects' - also costs $23.66/ton for disposal in addition to the roll off rental rate.
Do you Need a 'Yard Can' for a commercial business?
If you're disposing of food trash, or have a roll off container for commercial-use, solid waste billable charges come into play. As per your commercial address - the rate for this type of disposal is $29.50/ton. Once again Express only charges for the actual tonnage cost incurred of what you dispose of, if your business falls into the 'Solid Waste Billable' category.
Are you Disposing of any pressure treated wood and/or food trash?
Pressure treated wood (fencing, wood siding, board, 2 x4s, etc.) and/or food trash has a one-time small extra fee. We charge a small amount extra for this, because our roll off drivers are forced to take these loads to the Cocoa Landfill. In most cases, this takes our drivers out of loop; since the Cocoa dump is located north county.
Are you disposing of any landscape debris?
Landscaping debris mixed in with home clean out (junk and or household items) and/or construction load is a 'no-no', that is, unless vegetative debris is all you're disposing of. What constitutes vegetative debris? sod, leaves, branches, palm fronds, tree trunks, and mulch. What does not qualify as vegetative debris? Dirt, stone, rocks, or brick pavers do not qualify as landscape waste. If the materials mentioned above that qualified as vegetative debris are mixed into a construction waste load and/or a household clean-out load, Brevard County's local landfill will charge $41/ton "mixed load" fee, to dispose of your load. These actual dump charges are in turn passed along to you. Why does our county do that? Because the landfill workers are then forced to separate these materials (which is labor-intensive), in order to save room at the landfill, the local dumps mulch the landscape debris.
* Be careful, just because you have a load filled with only vegetative debris, once pressure treated wood is added to the load (2X4s, boards, fencing, etc.) we generally charge $25 extra to transport your waste at the Cocoa Landfill. Sarno does not accept pressure treated wood. *
*Rubber mulch is the same thing as tires and cannot be disposed of*
Where can you place the dumpster?
Generally, depending on the property or job site layout, we recommend placing the roll off container in your driveway or on the grass. We cannot place the dumpster in the road for safety reasons, in backyards, over sprinkler systems, water manes, unpaved driveways or roads where our roll off trucks may get stuck, or under power lines and/or tree branches where the boom of our truck cannot extend (our trucks have a trailer that lifts roughly 30 feet into the air when lifting the dumpster).
Are you disposing of concrete, dirt, or roof shingles (heavy materials)?
If so be sure to only reserve a 15 yard dumpster and only fill it 3/4 full. Our roll off trucks have hydraulic systems that can't be overloaded. When you have an extremely heavy load this puts quite a strain on our equipment.
Do you have a paver driver way you wish to protect?
Paver driveways are beautiful, and are generally more expensive than concrete driveways. We recommend purchasing 2 pieces of plywood before having your dumpster delivered (measuring 1" wide x 4' Long). Please alert our dispatch team so that we can instruct the driver to place the wood down during both pick up and delivery (in order to ensure your pavers don't get scratched or damaged during drop off or pick of dumpster rental).
Do you need to be present to give the driver payment and/or show him where I'd like the dumpster placed?
If you paid over the phone by credit card, it is not necessary to be present as long as colear instructions were given to our dispatch team on where you would like the dumpster located. If payment has not been made, Express Roll Off accepts cash and checks at the time the roll off is delivered.
Blocked Dumpster - Gate Codes - Locks - Cancellations - Delays - Overfilled Cans
If we cannot access your property or job site during pick up or drop off of the roll off container, we have wasted a trip. Situations where gate key codes are not conveyed to our sales team, the bin is blocked by vehicles/equipment, a job site's gates are padlocked, or you need to reschedule your drop off or pick up date and fail to convey this vital information to us - are considered "wasted trips". Travel fees will be added to compensate for lost time - "trip fee". Please be courteous and be sure our driver has access to drop off or pick up the trash bin without delays caused by any of the aforementioned factors in order to avoid a trip fee.
We're required to tarp all of our loads when we pick up your dumpster rental. If you fill the container above the fill line (lip of dumpster/or yellow line) we cannot safely transport your debris. We will either charge a fee for the overfilling the dumpster or charge a wasted trip fee for our inability to transport the roll off. DOT (Department of Transportation) Law requires covering our loads securely to avoid flying debris; which could cause injury to others on the road during transport.
How much lead time is ideal for drop off an pick up?
Generally, like anything, you can ensure deliveryduring the desired times and dates that are ideal for you if you give us 1-2 days lead time on both drop off and pick up go the roll off container. Booking too far out in advance is not recommended, neither is waiting until last minute.
What are the hours of operation at Express Dumpsters?
Our hours of operation are accommodating to both residential and commercial markets.We are conveniently open for business six days per week (Monday - Friday 7 Am - 7:30 Pm, and on Saturdays from 9 Am - 5 Pm).
* Homeowner tip- Opt for a late afternoon or evening delivery, since the contractors tend to reserve the morning delivery time slots. *
What shouldn't be placed in the dumpster?
Generally anything liquid or liquid based cannot be placed in the dumpster. Paint cans (unless dry), tires (they are oil based), air conditioning units (freon - coils), chemicals, oils, gasoline, hazmat, propane tanks, asbestos, batteries, computer screens monitors (mercury), lightbulbs, cleaning agents, etc.
What if you use the dumpster for less time than the alloted rental duration? Or what if you need the roll off for more time?
Our rental term is for 14 days (40% longer than the majority of our competition). If you do not need the rental for the entire time duration, just call us 1-2 days in advance and we will be happy to remove the container from your premises. We do not offer discounts on early pick ups, since all of our costs are factored in ahead of time (free drop off and pick up). If you need the garbage bin longer than the allotted term a $10/day charge will be accessed.
What if you need another roll off (your dumpster is full), but you have more to dispose of?
Call or text us if you need a second dumpster of swap out (also known as a dumpster switch out or a dumpster return). Many times we can accommodate same or next day service with both switch outs and dump returns. Please remember that the billing cycle will start over again once your original rental has been dumped.
How does pick up work? Do you come automatically or should you call?
It is best to call us when you are finished with filling the roll off. Please allow us 1-2 days lead time when picking up your dumpster.
How can you contact Express Roll Off Dumpsters?
Call Express at 321-253-1080. Or text 321-591-9559, or email us at This email address is being protected from spambots. You need JavaScript enabled to view it.
How can you leave a review for Express Roll-Off?
Google reviews are by far the method we prefer most as far as reviews are concerned,click here to leave Express Roll-Off a positive rating.
How can you maximize room (space) within the container?
The most efficient way to load the container is to load everything evenly (where the weight is evenly dispersed). There are often air holes or pockets where there is empty space inside of dumpster. Moving the contents around within the dumpster or crushing up bulky items (when possible) can help maximize what will fit into the container. Stack the contents into the dumpster like you would a Jenga puzzle, and you'll be fine.
What is C&D?
C&D stands for construction and demolition debris - this is often referred to as job site contents disposed of in a dumpster.
Is there a rental agreement?
Express offers a roll off dumpster rental agreement for our clients where all of our policies, hours, up-charges, dump fees, etc. can be referenced (click here to view our rental agreement).
How can you be sure a company is licensed and insured?
You can ask for proof of insurance (this is usuallydone by large contracting companies)- the insurance carrier then provides the renter with the pertinent information regarding liability, collision, and property insurance coverage.
Does Express offer bulk discounts?
Bulk discounts are available on a case by case basis. They are offered after a contractor for instance does a significant amount of business with us, or requires a bid on an agreed upon frequency of pulls, payment terms, etc.
Does Express offer junk removal services (where the container is loaded for me)?
Unfortunately, we do not offer this type of labor-based service at this time. However, our roll offs are easy to load, since they have a hinged door that swings open (this way there's no need for lifting and launching debris over the sides of the container).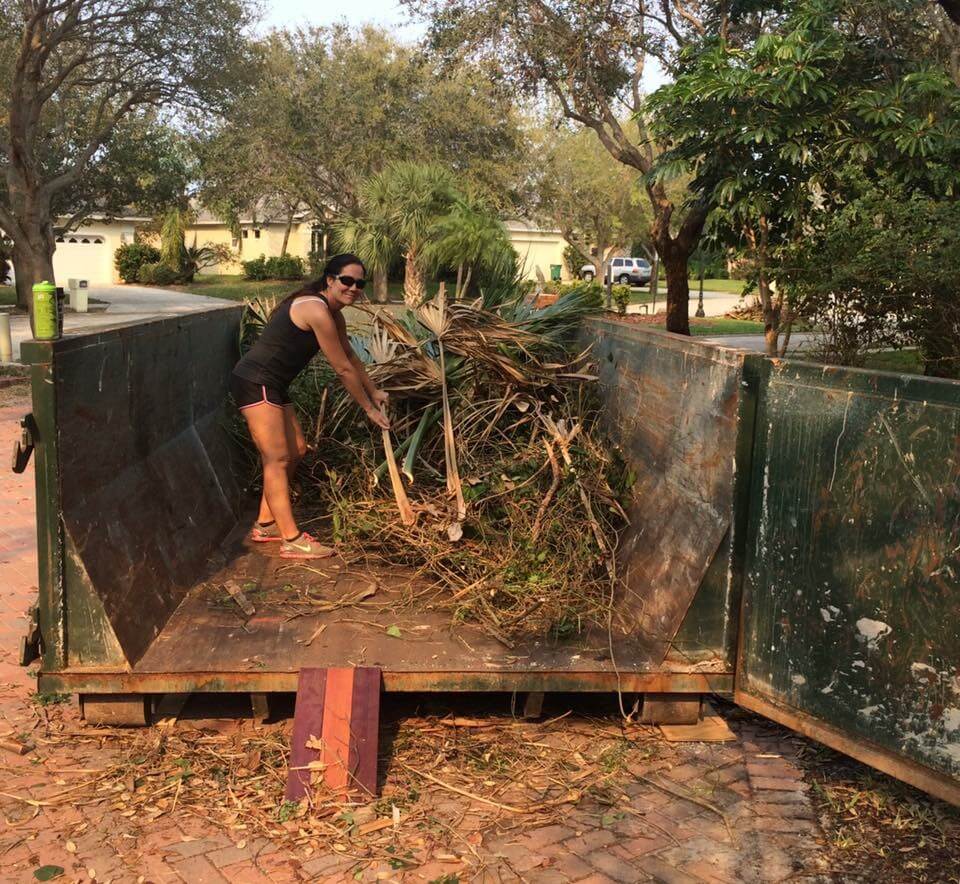 Other random roll off rental tips:
Renters beware of "cheap fly by night companies"

that are not licensed or insured - if these guys damage your property, you will wind up paying for repairs.

Read ratings and reviews - and check out who is a legitimate business (or ask for a W-9)

Beware of toll-free numbers or companies that have a huge service area- these are waste brokers- they act as a middle man between the customer and the dumpster carrier (legit dumpster service company) - and mark the price of the rental up by $100s

Beware of the cheapest price - they may give you the worst service to go with the price (your roll off may sit on your property for weeks without being removed)

Beware of disclosing your personal information (credit card number, email address, phone number, etc.

since this information is bought or shared by certain companies.

We at Express Roll Off respect your privacy and do not store or share your information with anyone.
As always, thanks for reading. We hope this article has helped you with the questions you may have had regarding renting a dumpster.